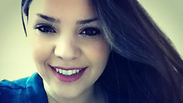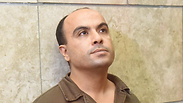 Taxi driver Hussein Khalifa was convicted on Wednesday of the murder of 19-year-old Shelly Dadon and was sentenced to life in prison. The court also ordered him to pay NIS 258,000 in compensation to Dadon's family.

Before the reading of the sentencing, Khalifa, who was arrested on June 16, maintained that he "didn't do anything."

Dadon's father Yaakov, meanwhile, said before the beginning of the court hearing that he expected the murderer's home to be demolished "like every other terrorist's home." He called for the maximum punishment. "It's a shame there's no death sentence, like in every other normal country, but I expect him to get life in prison."

The state recognized the murder as a nationalistically motivated crime, even though that was not expressed in the indictment.




Dadon left her home in Afula on May 1, 2014, for a job interview in Migdal Ha'emek. Her body was found several hours later in a parking lot in the Ramat Gavriel industrial area. Police from Migdal Ha'emek found her body during a routine patrol at around 3pm the next day. They saw stab wounds on the body, and, suspecting a murder, called in heavy reinforcements.

A police investigation showed that on the day of her murder, Shelly's father Yaakov drove her to the junction at Afula Illit, from where she was meant to travel by bus to Migdal Ha'emek. She never arrived to her job interview. As far as police know, Dadon got as far as the city center, and then took a taxi ride to her death.

During her cab drive, Dadon started feeling unease and fear the driver. She called her cousin and whispered, "I'm in a taxi, a scary one," adding that she was so scared she could not breathe.

Instead of taking her to her job interview, Khalifa, who worked a taxi shuttle service for workers at factories in Migdal Ha'emek, drove Shelly to an abandoned parking lot on the outskirts of the industrial zone where he stabbed her 17 times "all over her body, in different depths, that clearly show the accused intended to kill her," the judges wrote in their verdict. During his trial, Khalifa claimed he stabbed Dadon only six times, in "non-lethal places." The judges rejected that claim.

Dadon tried to fight him off by scratching at him, and tried to defend herself with her arms, to no avail.

"For several horrible minutes, during which she was dragged by him from one place to another, the accused forcibly and mercilessly stabbed Shelly," the judges wrote in their verdict.

Khalifa then dumped her body, which was then found by police. After murdering Dadon, Khalifa drove away from the scene, washed her blood from the car, and threw away her cell phone and purse near the Arab village of Beit Zarzir, in northern Israel.

Dadon's father and other family members tried unsuccessfully to contact Shelly from 9am on May 2. Eventually Yaakov Dadon went to the police, who asked him to describe his daughter. He was soon told that she had been found dead in Migdal Ha'emek, and taken to the scene, where he identified his daughter's body.

Shortly after the murder, several Bedouin youth were arrested after using Dadon's credit card, but it later transpired that they found her bag after Khalifa ditched it, and they were released.

Khalifa was arrested a month after the murder following intense detective work by the Central Unit of the Israel Police's Northern District. Investigators checked every taxi in the area, reviewed hundreds of security cameras, and experts recovered information from her cellphone that was thrown into the bushes outside the parking lot.

Lab work done after Khalifa's arrest found two additional important pieces of evidence: Traces of Dadon's blood were found in the front seat's filling. In addition, DNA traces left under Dadon's nail, which was found in the scene of the crime, matched Khalifa's DNA.

During his interrogation, Khalifa admitted to the crimes attributed to him and even reenacted the murder, but he cut the reenactment short and decided to go back on his confession.

Dadon's mother, Ilana yelled at the killer: "How could you stab her so many times? How could you leave her there in a puddle of her own blood? Did she call out for me? You did all of this out of empty hatred, because she was a Jew."

The mother added, "This disgusting murderer deserves to suffer in pain, the same way we are suffering. Treat him as you would a terrorist."

After the reading of the verdict, Judge Asher Kula said: "We believe that there is no need to impose an additional cumulative punishment on the accused, as that would be a devaluation of the life sentence ... We heard the mother, we paid heed to her pain and her call to prosecute the accused to the fullest extent."