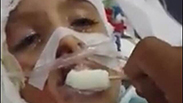 Ahmad Dawabsheh in intensive care
Campaign launched to help surviving Dawabsheh child
Human rights grassroots movement launches fundraising campaign to provide immediate assistance to 4-year-old and his grandfather; 'A broad mobilization of the Israeli public will send Dawabsheh family message of reform, solidarity, shared destiny and compassion.'
A human rights grassroots movement launched a campaign this week to raise money for four-year-old Ahmad Dawabsheh, who lost his father, mother and younger brother when in an arson attack at his family home in the village of Duma.
The campaign led by Tag Meir, which brings together organizations fighting hate crimes and racism, seeks to provide immediate assistance to the child and his grandfather Hussein.
Tag Meir said that "Israel will not be able to make up for the loss of the Dawabsheh family until it catches the murderers, and unfortunately so far no suspects have been caught in four arsons of inhabited houses in the past two years – in Sinjil, Khirbet Abu Falah, Khirbet Carmel and Duma. Ahmad and his grandfather can not wait for justice to be served."
The campaign began on Wednesday and has already raised a fifth of their initial goal. Donations will be directed into three main channels: The emergency channel, which will focus on Ahmad's medical treatment and rehabilitation, as well as assistance to his grandfather; the education channel, which will focus on future aid for the child; and new housing and support to the family.
Singer David Broza volunteered for The campaign, which is coordinated with the Dawabsheh family, and offered to perform for the donors. Other contributions are coming in from groups promoting coexistence in Jerusalem, who are offering donors tours of the Old City and the Mahane Yehuda market, a poetry workshop, a visit of the museum of Islam, and more.
Gadi Gvaryahu, chairman of Tag Meir, said that "A broad mobilization of the Israeli public will send the Dawabsheh family, and other minorities living amongs us, a message of reform, solidarity, shared destiny and compassion in the spirit of the Torah of Israel, the commandment to 'love him as yourself - for you were strangers in the land of Egypt' and 'peace, peace to the far and the near.'"
The grandfather, Hussein Dawabsheh, responded to the initiative, saying that "This is the opportunity to thank all those behind this campaign. We are proud of such people who support us."
"It is true that the initiative is welcome, but it will not bring back our lost family. I just hope that such incidents do not occur again," he added.
The Dawabsheh family home was set on fire at the end of July. Masked men threw Molotov cocktails into the house and fled. The baby Ali died in the fire and his father Saed died a week later from his wounds. The mother Reham's condition was extremely serious, and she eventually died. Ahmad's condition has improved significantly in recent weeks, but he remains hospitalized in the intensive care unit at Soroka Medical Center in Be'ersheva.