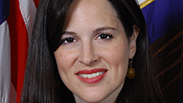 Anne Nueberger/ Concerned about secular-haredi rift in Israel
The meteor from Borough Park: Meet the Hasidic woman who manages risk for the NSA
Anne Neuberger was raised in an ultra-Orthodox family, but decided to break boundaries and develop her own career. As the National Security Agency's recently appointed chief risk officer, she talks to Ynet about her unusual life and the clash between individual rights and security.
WASHINGTON – This is the impossible story of a girl from a Hasidic community in Brooklyn, who was raised speaking Yiddish and studied Torah in Hebrew, of how she succeeded in breaking boundaries, shattering stereotypes and leaving the ascetic Borough Park neighborhood to study in prestigious Columbia University, while strictly observing her ultra-Orthodox tradition.

At the age of 31, she landed like a human meteor in Secretary of Defense Robert Gates' bureau in the Pentagon, and today, at the age of 39, Anne Neuberger holds a very senior position in the National Security Agency (NSA).

Anne Neuberger's work for haredi women

Anne learned from her father and grandfather the meaning of violating individual rights and comprehensive eavesdropping on citizens in communist Hungary, which they escaped from in favor of the United States. She also learned from her parents about terror.

Inside Intel

General Michael Hayden, the most prominent figure in the US intelligence community in recent decades, says he does not envy current NSA Director, who is charged with rebuilding the agency after the 'serious blow' of the Snowden leaks. Thirteen years after the fall of the twin towers, Hayden meets Ronen Bergman in Manhattan, to discuss the revolution in American intelligence after 9/11, how he persuaded Bush to launch targeted killings of top al-Qaeda officials, his close ties to a Mossad chief, what is needed to defeat ISIS, why the world's biggest intelligence agency is peeking into your Gmail, and what this all has do with Angry Birds.

She was five months old when her parents traveled to Israel for their first visit and left her at home with her grandmother. On their way back, they took an Air France flight to Paris with a stopover in Athens. They were not meant to be on the plane which was hijacked to Entebbe, but they changed their flight, she says.

When the kidnapped passengers were sorted in Entebbe, her father was separated from other passengers because of his skullcap, despite his American passport. He was joined by her mother, who later told her that when IDF soldiers broke in and said, "We're here to take you home," her parents began running towards the plane barefoot. Upon landing in Israel, a female soldier gave her mother a pair of sandals.

Anne presents video footage of her mother, Rivki, and her father, Mendel Yitzhak (George in his American name), as they are set free from the Air Force Hercules.
Fixing the damage caused by Snowden
This balance between protecting civil rights and preventing invasion of privacy, and the need to infiltrate and locate terror threats, is exactly what Anne Neuberger is doing. Eleven months ago, NSA Director Admiral Michael Rogers announced her appointment to a new position as chief risk officer in the national security agency, following the trouble caused by Edward Snowden's revelations and the credibility crisis among the American public.

"Ms. Neuberger will work closely alongside all senior leaders at the Agency," the NSA said in an official statement. "In her first year, she will focus on creating and maturing a methodology and processes to assess the various risks across different missions and work toward meeting specific objectives assigned by the director."

Anne speaks softly and looks younger than 39. "My family is Satmar, old style Satmar. We speak Yiddish with a Hasidic heavy accent. I grew up in Borough Park. I went to Bais Yaakov a huge girls' school of 2,000 girls and to Bais Yaakov High School," she says.

"My father took a lot of pride in my ability and tried to find a way that would fit with our culture. My father was more open to it than my mother. She is more conservative that the woman's role is in the house. My mother never worked. In the Hungarian society, woman's work is a sign that the husband is not taking care of the family. My father always worked and was successful."
Wanted a 'real college education'
Anne negotiated with her ultra-Orthodox parents, suggesting that she would work during the day and study two nights a week in Touro College, where men and women study separately. She easily completed two degrees in finance and computer science. At the same time, she ran the online development of her family's financial business.

"I started working and doing a lot of cool stuff of buying stocks online, and I ran an operation of a company," she recalls.

But Anne Neuberger, thirsty to study, wanted "a real college education." Her husband, a lawyer, encouraged her to go back to school and she got into Columbia Business School while she was pregnant with her first child.

"I planned to go on the fall semester, but then 9/11 happened and it was impossible to get from Brooklyn to Columbia in the Upper West Side of NY in a regular way. So I took a year off and ended up with my second child that year. During that year I decided to do a second master's in international affairs when I went back to Columbia. So I finished with two masters in business school and international affairs with concentration on energy and security in the Persian Gulf." That was about 10 years ago.

Anne learns languages easily. In addition to English, Yiddish and Hebrew, she has also learned Arabic and basic French. "We learned Hebrew at school," she says. "I love languages, so I went to Israel in the summer after the 12th grade and I promised myself to learn the language. For six weeks I spoke only Hebrew. Then I learned Arabic at Columbia. It's easy because of the Hebrew."

Her professor told her about the White House Fellows program, but she only applied to work in the administration two years later. "The war in Iraq went badly. America opened the door to my father who came as a refugee, and I have to give back." It involved leaving her warm, beloved community in Brooklyn and her parents' home in order to live in the Washington area.

Anne applied and was surprised to be assigned to the Pentagon in Bob Gates' office. She was the first woman to serve as a special assistant to the secretary of defense. Gates tasked her with dealing with the issue of military vehicles which hit roadside bombs, which led to the massive killing of US soldier. Israeli vehicles produced by Rafael were introduced on the front and managed to deflect the power of the blasts and save soldiers' lives.

The secretary of defense asked her to look into Marines and Navy development plans in order to accelerate the production of these vehicles. He wanted to wave bureaucracy in order to launch a massive production of vehicles resistant to roadside bombs.

After completing that project, she was appointed special advisor to the secretary of Navy, where her job was to solve problems of failed projects and those which had exceeded their budgets.

In the Pentagon she made a name for herself as a brilliant problem solver, which led her to her next target: A member of the founding team of the National Cybersecurity Center. She introduced a number of initiatives for collaborations between private companies and the Pentagon, the Department of Homeland Security and the National Security Agency.

From there, she was recruited by General Keith Alexander, who served as the NSA director, to join a small group working in his command.

What are you good at?

"People tell me that I am good in solving problems, breaking into pieces and getting a bunch of people to work together on really tough problems. I can take a big problem, break it into pieces and assemble people, assign them to the pieces and keep the big picture that we can get there.

"As chief risk officer, we set up a way and I look at risks. Operational risks, technical risks, strategic risks that our efforts will be disclosed. In any intelligence community, there is always this tension between how many brains you put on a problem. Sometime the more brain you put on a problem, the more likely you will solve it. On the other end, each additional person who knows about something adds risk. What's the right balance? That's one of the toughest problem in the intelligence community that we have to figure out."

What about Snowden's risk to the organization?

"For NSA we have to balance two sets of risks. From one side, everybody acknowledges that 9/11 for many reasons was an intelligence failure. We didn't connect the dots. The reason was there, but we didn't connect the dots. We missed something. On the other end, we live in a democracy much like Israel and the trust of the American people that the Intel community gets American values is a fundamental thing. How we manage between the two is one of the toughest risks that we face.

"America is like in Israel. Israel experiences terrorism and tries very hard to be true to its democratic ideals. In the US post-September 11, we have to be true to our democratic ideals."
Volunteering for divorced haredi women
Anne Neuberger is being exposed as part of the NSA's PR face. She is sent to appear before special audiences two or three times a month. She recently spoke at Harvard University.

She works from morning till night, but on Fridays she leaves the office early in order to get home before Shabbat. She says it's an interesting and great workplace with people from different backgrounds, but she never forgets where she came from. It's true that she doesn't have time to bake cakes and challah for Shabbat, but she hasn't forgotten to do charity work.

Neuberger decided to use her status and knowledge to help Jewish Orthodox women to function in the 21th century. She started a charity for divorced haredi women called Sister to Sister. "We serve about 1,000 women in 30 different communities in the US in all kinds of different programs. We have 250 women volunteers. I founded and run the organization as a volunteer. The real work is done by a fantastic three full-time staff.

According to Neuberger, there are changes taking place in the haredi community. Women are going out to work. It's a process which is happening out of sight. She also supports several charity groups in Israel, mainly with training and help in getting jobs.

Several month ago, Neuberger traveled to Israel with her husband and two children to celebrate her son's bar miztvah at the Western Wall. After the event, they visited the Makom Balev program in Rehovot for children from a difficult background. Her son gave them the money he had received for his bar mitzvah.

She says Israel is beautiful, but expresses her disappointment over the rift between secular and haredi Jews as she has many secular and haredi, Jewish and non-Jewish friends in the country. The Temple was destroyed because of baseless hatred, she notes, adding that in the Holocaust there was no distinction between religious and secular Jews.