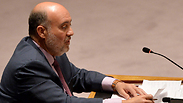 רון פרושאור דיון מועצת הביטחון של האו"ם ניו יורק על ישראל מבצע צוק איתן עזה פלסטינים
Photo: EPA
The hardest moment in Ron Prosor's already-difficult four-year run as Israel's ambassador to the UN happened in another country, far away from that imposing building on the bank of Manhattan's East River.

"Even after everything I've seen, the terrorist attack at the Kosher supermarket in Paris shocked me," he says in his baritone voice. "I just couldn't believe it. January 2015, we have a state, and still we can't get rid of the recurring motif, that can't be called anything but anti-Semitism. A few days after the attack we held the first rally against anti-Semitism here."

"I told the ambassadors that, with all due respect to them taking part in the grief and signing statements, we don't need more monuments to the dead," Prosor explains. "We need promises to protect the living. There are those who say that we're exaggerating our use of the 'anti-Semitism card', and I ask myself every day if we use that term too much, diluting its meaning, but what other name can you give it?"

Is it especially noteworthy in the United Nations?

"20 years ago I would've hesitated to define it as anti-Semitism, but today I simply can't explain it by politics alone. In 1975 there was the 'Zionism is racism' resolution, and it took 16 years to reverse it, but the demonization and delegitimizing of Israel are something that's embedded deep in the UN's walls even today. There's institutional discrimination against Israel and it hasn't changed, in many ways it's harsher than ever."

How is it expressed?

"In every area. The UN makes 20 resolutions against Israel, one against ISIS, and one against Syria. No one can really justify that. Take something like the World Conference on Women in March. A festive event with representatives from all 193 states, whose purpose was to discuss the empowerment of women. It isn't even supposed to be political. At the end of the conference it was decided to rebuke one country for its treatment of women. Not Saudi Arabia, not Iran, not Afghanistan. Israel. Out of all places on earth they rebuke the treatment of women in Israel?

"Or how about the time when the World Health Organization (WHO) convened and decided in a 106-4 vote that Israel is a 'health risk' in the Middle East. Israel is a health risk? How? From where? You sit in your chair and say 'wow'. The UN Human Rights Council has article four that deals with human rights abuses around the world. And there's article seven which deals with just one state. When I ask them sarcastically 'what, we're not good enough to be in the same group with Syria, Libya, and Iraq?' they don't have any answers."

Does the institution question Israel's very right to exist?

"I wouldn't go that far, but unbelievable things are happening. There are official UN websites where you can see calls for boycotting Israeli products. Sometimes words fail you. We've stayed silent for many years, but no longer, and I feel that it has an effect. More and more people in the building say to me 'you know, we are exaggerating a bit, there are other problems in the world'."

Would solving the conflict with the Palestinians change anything?

"No. I think it's important for us as a state, for our future, to resolve the problem with the Palestinians, but it won't matter to the UN, not at all."
Parody or tragedy
At the end of September Ron Prosor will pack his bags, say goodbye to Central Park's jogging lanes, the NBA games, and the intense New York life, and end his term as Israel's 16th ambassador to the UN.

He'll leave behind four years that were some of the toughest ever for an ambassador at an institution whose relationship with Israel is constantly moving back and forth between terrible and worse. But they were also four years when the Israeli UN delegation stopped playing defense.

Prosor's reign will be remembered, among other reasons, because Prosor is a man who's hard to forget. With a good grasp of the material, a measured sense for sarcasm, and great affection for the spotlight, Prosor has become one of the most popular ambassadors in the building, even being elected to the post of deputy chairman of the general assembly in a unanimous vote. And still, he felt very lonely sometimes.

"The UN is like a forward command base, from which you see the whole world," he says, "193 countries, and each has its own problems. It's amazing, being in a position to see the whole world's problems in one building. We're up against impossible math from the start. First of all, out of 193 countries, only 87 are democratic. There are 22 member states of the Arab league, 57 Islamic states in all, and 120 unaffiliated ones. Every Israeli ambassador to the UN has dealt with difficult things, but there's no doubt that the past few years have been very hard. Sometimes I felt like I was on 'One vs. 100'."

Prosor can point to the moment he understood that the wall he'd be banging his head against had recently been reinforced with a new layer of cement.

"In 2012 we saw, here and in the Foreign Ministry, that even by the measures we were used to, we've crossed into a different dimension. The Palestinians received the status of 'non-state members', while they were engaging in diplomatic terrorism against Israel. As they were saying 'no' to dozens of things, they were getting a 'yes' from the UN and its security council. This is a type of terrorism they use everywhere, they have to push their agenda even onto issues like oceans and the rain forest."

Two years later came Operation Protective Edge, and Prosor once again found himself having to protect Israel while it was at war. The UN's response especially frustrated him. And when he's angered, he gets creative. "One time, after Hamas broke the ceasefire again, and the UN again didn't mention it by name, we decided that I would reply on the UN's Facebook page as a regular user.

"I wrote, 'Dear General Secretay, there's an organization called Hamas, I'd like to introduce the two of you, they're the one firing rockets at us. If I didn't know the UN I'd think it's a parody, but since I do know the UN, it's a tragedy'. That garnered thousands of responses and shares, and created a bigger effect than any press release we might issue."

"When we saw that parliaments around the world were starting to recognize Palestine as a state, I stood in the UN and gave a speech I called 'J'accuse'. People in the delegation told me not to go there, not to make connections with Emile Zola and Dreyfus. I told them 'all we have is the truth and we need to say it, no matter whom it angers'."

"I got up to speak and said 'you've set one standard for democracies, one standard for dictatorships, and one standard for the state of Israel, one that is impossible to meet'. That's a moment I'm very proud of, people responded to it, you saw that they were starting to understand that something wasn't right here. I told the people here that we have to understand that some people try to take us out of the family of nations every day, and we need to fight it."

I told Prosor that it sounds like he's trying to clean Israel's hands of mistakes.

"I'm not, but there's so much built-in incitement here that no matter what opinions you come in with, and no matter what you think of our policy, you've no problem defending the state and standing in formation. Even the biggest leftist would be shocked when they came here. The distortion against us is almost a caricature. We're constantly checking to see where we're wrong, but I see the treatment towards us here on the most basic things, and believe me there's nothing easier that defending Israel in the UN."

And still, I ask, where are we wrong?

"I really don't remember us, in the UN, making some significant mistake. We're fighting for our existence there, it's not that something we do would hurt our status in that institution, that's why I didn't give hold back."

Is there something you personally regret?

"No. I'm very proud of what we've done here for four years. We made it clear to everyone that we weren't going anywhere, and they should get used to it."
A hug for the Tanzanian ambassador
Prosor, nearly 57, is used to intense diplomatic situations. He was director general of the Foreign Ministry during the disengagement from Gaza in 2005, Israel's ambassador to the UK during the late 2000s, and landed in New York in 2011.

He situated himself in a nice apartment in the Upper West Side, with a gorgeous view of the park and the museum, and a permanent reminder that he's an Israeli diplomat in the form of the police officers standing downstairs. He put some photos in the living room – some of his family, some casual ones with him and Queen Elizabeth II in them – and went to work.

Prosor never just sat quietly with any role he was given. When he entered the General Assembly hall and saw the shiny podium, he felt right at home. The first thing he did was wake up the sleepy delegation members.

"The people sat on different committees as observers. They didn't say a thing. They listened and sent telegrams to Israel. I told them on my first day, 'that era is over. Anyone who comes out against us – you respond. Only I can approve your non-response'. The entire alignment became offensive, we have nothing to be ashamed of."

"Up until the year 2000, Israel didn't belong to any regional group in the UN. Later we were accepted into a region called 'West Europe and Others' (WEOG), and even that was on the condition that we not nominate ourselves to anything else for six years. They only agreed to us entering the country club that way. Today we nominate ourselves for everything. I was deputy director of the general assembly, we have a guy in the UN budget committee, there's an Israeli officer in the peace core for the first time."

"Or, for example, there are two Christian and two Muslim vacation days on which the UN closes. I asked, 'what about Jewish holidays?' they told me 'there are other religions in the world', but we fought and soon a resolution is supposed to pass declaring Yom Kippur as a UN holiday as well. We just aren't willing to bow our heads anymore."

Prosor understands that as far as politics go, there isn't a high chance of changing hearts and minds, so he goes for the areas where flogging Israel is a bit harder. "For instance, we proposed a resolution about entrepreneurship; we worked on it for a year, as if it were a military operation. 141 nations came, some of whom don't have diplomatic relations with Israel, and voted for the blue-white colored resolution. The ambassador from Tanzania came up ot the podium and said 'I have a lot to say about the Palestinian issue, but what Israel is doing in this field is amazing and I support it. I almost jumped up to the podium to hug him."

"It's like Economics 101. There are supply and demand curves. So there's a large demand for de-legitimizing Israel, but also a lot of demand for Israeli knowledge in so many areas."

Being a performer (unidentified sources say he's imitated Benjamin Netanyahu and Shimon Peres to them in private occasions), Prosor has created quite a few unusual, controversial, and above all memorable moments. The moment he's most proud of is when he brought Israeli singer Rita (Yahan-Farouz) to sing at the UN.

"I arrive in New York and see Rita singing in Hebrew and Farsi, I thought it would be great to have her sing in front of everyone. Now you need to get the general assembly hall, which has never happened before. The only ones who've performed there before were Bono, Beyonce, and Stevie Wonder, who sand under the UNICEF banner. It took a whole year, the Iranians and the Arab countries fought against it any way they could, and in the end Rita performed at the UN and the hall had delegates from 121 countries in attendance. They speak of it to this day."

Aren't these gimmicks beneath such an institution?

"There are many countries that speak at the UN, and we only have one opportunity. The thinking has to be how to make something significant of it, which will last in people's memories. Chaim Herzog read the 'Zionism is racism' document and some might think of that as a gimmick, but it's still remembered decades later. Fast forward to today. Israeli citizens sit in their shelters and hear the red alert sirens every few minutes. We decided to sound the alarm at the Security Council, to show them how it feels. You should have seen the American ambassador Samantha Power, the Russian ambassador, the UN ambassador, everyone was frightened."

"Afterwords, the ambassadors' diplomatic advisers put the red alert siren app on their phones so that they can report rocket fire. Whoever wants to call it a gimmick, go ahead, but the fact is it worked, people suddenly understood what Israeli civilians were going through. A day after the Academy Award ceremony, I gave our some Oscars to some countries. Yes, it's a gimmick, but the rumor spread fast and people gathered in the hall. If you speak in a way that people can connect with, you can reach them. It's a way to send messages, and everyone responds to it, including ambassadors from Arab countries."

What do they tell you?

"They know the truth. You should hear them talk when no one's listening. Once, when I made a mockery of how Arab countries treat women and gay men, a senior Arab ambassador came to me and said 'Well done Ron. I wish I could say things like that publically'."
The most American moment
Even while filling this stressful role, Prosor didn't forget he was in New York, and made sure he enjoyed the city. He remembers how he sat in a bar with Avraham Grant (a famous Israeli Soccer coach), and the two watched the UEFA Champion's League finale. "We sat there with a few Germans, that was the only place where people recognized Grant, all the other people at the bar were watching baseball. That was perhaps my most American moment here. People of all sorts of different nationalities and languages sitting and watching different sports."

When he wanted to clear his head, Prosor went down to Central Park and jogged. Well, he jogged a bit and walked a lot, but let's say he jogged. He'd always finish his jogs at a frozen yogurt stand whose Egyptian owner has operated for decades. "My most fascinating political conversations here weren't at the UN or with state leaders," he says, "they were the conversations with the Egyptian clerk. There isn't a problem on earth we didn't solve in ten minutes."

One problem that the Egyptian clerk couldn't solve for Prosor was the diplomatic tension between Israel and the United States. It's no coincidence that he thinks carefully before speaking on the sensitive subject. "In the UN you don't feel any of that tension," he says, "we're in constant contact with the Americans, all the time, I met Samantha Power for an hour and a half just last week. There on the front lines with us every day, on every topic. I don't see any change in their stance next to us."

Are you concerned that they might not veto the French decision regarding two states?

"I'm and Israeli, I'm concerned all the time, but I think the Americans deeply understand the discrimination against us in the organization. I'll say it like this: We need to do everything to preserve relations with them. Without the US, our situation here would be impossible."

What would happen if you disagreed with orders that came from Israel?

"My bosses hear from me all the time. No one has ever accused me of being shy. I think that as a society we should be proud of the internal dialogues we have, which sometimes border on self-abuse. Other countries don't have that process."

With whom did you disagree?

"I don't agree with us allowing all sorts of UN organizations to go around Israel without any justification, just out of concern for what others might say. There's never a right time to tell them to go, we'll always take criticism, but what does it matter. The long-term damage they cause is greater than the criticism we'll absorb for a day or two. There's an organization in Israel whose job since 1948 is to overview the ceasefire between Israel and its neighbors. What work do they have in Israel today? They track down lost deer and write anti-Israeli reports. I'm always trying to get them removed."

Do we still have any friends in the UN?

"There are above-radar relationships and below-radar ones, and they're totally different. It's a little bit like the Knesset food court. I maintain contact with representatives of countries with which we don't have diplomatic relations – Muslim, South American, African countries. I don't kiss these people on the cheek when we're in the UN center, but we meet in hotels or coffee shops.

"Under the radar there's enormous appreciation for us by people who can't say it, and there are a lot of countries who want to vote with us and can't. Israel's best ambassadors are those we've touched. The Jamaican ambassador, Courtney Rattray, lived in Israel as a boy when his father worked at a volcanic research center. The Kazakh ambassador, Kairat Abdrakhmanov, used to be their ambassador to Israel. They really know Israel.

Who are your closest personal friends?

"The German, Kazakh, and Turkish ambassadors. Rwanda's ambassador, Eugene Gasana, is a really close friend. I talk with him about everything. If I send him a text message now he'll respond immediately."

How do you manage to avoid turning the deep divides into personal conflicts?

"You don't always manage to do it, it's a matter of character. Humor helps. I remember when I quoted a report by the UN UN Commission on Human Rights, in which they claim not to understand why the Palestinians dug tunnels. It's a joke of course. I asked, 'is it possible they wanted to construct the Gaza metro system?' I turned to the British ambassador and said, 'as someone who was Israel's ambassador to the UK, I can only say 'mind the gap'.

"People were cracking up laughing, because they understood the absurdity of the matter. Really, you don't know why they dug tunnels? That entire day, people in the UN halls said 'metro system, eh?' to me. The thing that angers me the most is when we don't get the respect we deserve.

How do you mean?

"We experience situations no other democracy knows. We try every day to protect our citizens, and on the other hand not exaggerate in our responses. I remember how the world reacted when we started screening people in air ports 30 years ago – 'what about the right to privacy? How dare Israel treat people that way?' – and what goes on today in every air port in the world? We were the first ones who had to deal with suicide bombers in our cities, and today it's a global problem. We're on the frontlines. Instead of pointing a finger at us all the time, sometimes they should give us a hug for all our strength in handling these things.

If the UN really hates us so much, what are we still doing there?

"It's where the family of nations is represented, of course we want and need to be here. Ben-Gurion did say 'Um-Shmum' (a piece of Hebrew wordplay, belittling the UN's significance), but he also said 'What's important isn't what the goyim say, but what the Jews do'. As long as we're the first to aid in disaster stricken areas, and African kids know that they have light because of our solar panels, as long as we invest in human capital and show the world who we really are, it'll be easier for us, because people who were touched by Israel can't accept the demonization even if they have criticism for us."

Prosor is leaving at a time in-between the end of struggles against the Iran nuclear deal and the upcoming French resolution to set a target date for the culmination of negotiations on a two-state solution. He'll spend the next month, including the general assembly's annual conference, training his replacement.

Were you surprised by Danny Danon's appointment?

"No."

What does it take to be a good UN ambassador?

"Common sense, intelligence, and a learning curve."

What advice will you give Danon?

"I'll give him everything I know, how the business works and where the best food is, but at the end of the day each person walks his own path. The most important thing is to stand strong against anyone who challenges him. He'll learn the rules of the UN game, because the UN's reality gets you used to them very quickly."

Prosor doesn't yet know what's next. The say he has his eye on the position of Israeli ambassador to Germany, but all I can get out of him is a smile. "Before anything else, I'm going back to breathe the Jerusalem air, rest a little, and then we'll see," he says.

What will you miss the most?

"The adrenaline. Getting up every day and asking 'okay, where is the fire coming from? Where are they going to shoot at us from?'. We're always on the goal line, launching balls into the stands. I go into the United Nations, see dozens of flags with crosses and crescents, and there's only one star of David. For some people it's one star of David too many, and I understand we can't afford to be tired for even one day."

Are the outgoing ambassador's opinions the same as those of Ron Prosor, the private person?

Prosor thinks a while before answering. "Here, there's no difference between me and the professional. Service in the UN has made me more cynical than I was before, and more aware of the importance of Israel as a national home for the Jewish people. I felt the change for the worse during the end of my term in the UK, and it became very-very worrisome in the UN."

"We don't understand well enough how much we need to protect the country. Because no one will take care of us. If anything became stronger for me here, it's the understanding of how we mustn't be complacent. I don't want to say we're alond in the world, but it's not far from it.