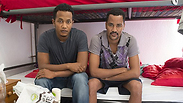 מהגרים פליטים גרמניה משכנת מחנה הריכוז בוכנוואלד מלחמת העולם השנייה נאצים
While the streets of Germany's major cities are witnessing mass demonstrations for and against the absorption of immigrants and refugees, a small town council has begun housing refugees in a building that once served as a Nazi command post at the Buchenwald concentration camp - where tens of thousands of Jews were killed.

Schwerte, a community of 50,000 south of Dortmund, has decided to move 21 refugees into the camp's only remaining building on the outskirts of the town. During the Second World War, the camp received 250,000 Jews from all over Europe, of which 56,000 were killed.

The move was first debated in January, when town officials said all the refugee housing in the town's jurisdiction was already filled with 200 asylum seekers, and that the town did not have the necessary funds to purchase temporary structures.

The mayor of the district, Christian Hanke, said: "It is an emergency solution, but it is unavoidable. There is a lot of room in the hangars."

Each refugee receives a 135-euro stipend during their stay at the camp, which is usually until they receive residency permits.

20-year-old Abdurahman Massa, from northern Eritrea said he does not mind what the building was before, adding: 'This is good for me.'

Another refugee known as Diaoyre, from Algeria, said he'd been living in the building for one week,

And added: 'It is good here. Many others don't even have this.'

The current migrant situation seems to be growing exponentially, and according to the International organization for migration; more than 430,000 migrants and refugees have crossed the Mediterranean, with 2,750 of them dying at sea. According to the figures 310,000 people arrived in Greece and 121,000 in Italy. Additionally about 2,000 have made their way to Spain, and another 100 to Malta.