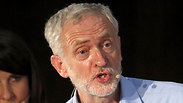 Jeremy Corbyn (Photo: Reuters)
Photo: Reuters
Far-left lawmaker Jeremy Corbyn, who is a staunch critic of Israel, and has previously referred to himself as a "friend" of Hamas and Hezbollah, was elected leader of Britain's opposition Labour Party on Saturday, causing consernation to some in the nation's 290,000-strong Jewish community.
The 66-year-old, who strongly opposes the government's austerity policies and Britain's membership of NATO, was considered an outsider but in recent months became the runaway favorite over three more mainstream rivals to win Saturday.
Corbin refers to Hezbollah and Hamas 'friends'
Corbyn is a staunch supporter of the Palestinian cause, and has met in the past with members of terrorist organizations like Hezbollah and Hamas, and described them as "friends."
The Foreign Ministry in Jerusalem and Israel's embassy in London refrained from publishing any response to Corbyn's victory, even though this victory will have ramifications for Labour's relationship with Israel and the UK's Jewish community. Some in the community believe that the wealthy British Jewish establishment, which has traditionally supported Labour, may now defect to the Conservatives or a newer, centrist party.
Corbyn's win is a nightmare for many of Britain's 290,000 Jews. Several years ago, a Jewish Chronicle poll showed that 70 percent of British Jews were concerned about the consequences if Corbyn was elected leader. More than 80 percent of Jews expressed concern about Corbyn's potential foreign policy and ties to Holocaust deniers.
Corbyn's election raises complex questions about the future of the British Jewish community's relationship with Labour. It's unclear whether he will become more moderate, like many politicians on the left, or maintain his positions. The Jewish Chronicle's Marcus Dysch wrote that after five difficult years under Ed Miliband's leadership, many in the Jewish community could see his heir as someone they cannot work with.
Corbyn has already conveyed messages that he intends to appoint a special envoy for Jewish affairs to communicate with the local community.
Dysch said Corbyn would, if elected prime minister, initially have to deal with urgent issues like the economy and education before he could approach the Palestinian matter.
However, based on his prior statements, it's likely that Corbyn will adopt a tough stance towards Israel and call for sanctions, boycotts on products from settlements and support for a Palestinian state.
In the event of a violent conflict, it's likely that he would condemn Israel, just as his predecessor did during Operation Protective Edge. "But how far would he get in the Commons with anti-Israel proposals, when so many in the parliamentary Labour Party seem destined to refuse to back him on a wide range of issues?" Dysch wrote.
Corbyn will face his first test as head of Labour in about eight months, when the UK has local elections. Some in the Jewish community fear that if he remains in the role until the next scheduled general election in 2020, and fails to adjust his policies, the damage to Labour's relationship with the Jewish community could be irreversible.
Corbyn's victory could also affect the Labour Friends of Israel organization, which once numbered some 100 MPs. The organization was led in the past by very high-ranking politicians, including Tony Blair. When Miliband headed labor, the organization dropped to about 50-60 MPs.
Corbyn managed to cause a political storm two weeks ago as a result of a statement in which he labeled the assassination of Osama Bin Laden a "tragedy."
According to the Telegraph, Corbyn's spokesman defended the remarks saying he was "a total opponent of al-Qaeda, all it stands for".
In an interview with Iran's Press TV, Corbyn described the death of Bin Laden a tragedy. According to Corbyn, "There was no attempt whatsoever that I can see to arrest him and put him on trial, to go through that process," he said. "This was an assassination attempt, and is yet another tragedy, upon a tragedy, upon tragedy."
Many senior leaders in the party oppose Corbyn, and many – including former Labour prime ministers Tony Blair and Gordon Brown – had issued public warnings strongly urging voters to reject Corbyn, arguing that his socialist ideas will alienate moderate voters and make Labour unelectable.
The Associated Press contributed to this article.