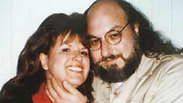 Pollard and his wife Anne.
It all began in early 1984, at a synagogue in the Washington suburbs. Towards the end of the Saturday morning prayer, a young man – bespectacled, wearing a yarmulke on his balding heard and with weekend stubble on his face – approached Steve Stern, a congregation member known for his close ties to Israelis who served in their country's diplomatic offices in the US.
The man who approached Stern introduced himself as Jonathan Jay Pollard, an employee of the Navy Ocean Surveillance Information Center, which analyzed intelligence at a naval base in Maryland.
"I am exposed to the most classified secrets regarding Israel's security," said Pollard. "I have access to any information you can imagine. I want to help Israel."
Pollard noticed the astonishment on Stern's face. "Despite the commitment that is part of the agreement between Israel and the US to cooperate in intelligence matters, our authorities refrain from giving Israel information that could save Israeli lives. I want to give Israel this information."
He asked Stern to convey this message to Israeli associates. "Find me a way to get in touch with authorized parties," Pollard requested.
A few days later, in the same synagogue, Stern gave Pollard a phone number belonging to Aviem Sella, an Israeli Air Force colonel, who had arrived to study at Columbia University in New York City.
Sella and Pollard met in New York. Pollard was moved to tears. He had visited Israel as an adolescent, and had gone on to read about the IDF and its wars. Meeting Sella, a fighter pilot, was deeply impressive.
Sella reported Pollard's proposal to his commanders in Israel. They passed the information on to Chief of Staff Moshe Levi, who further passed it on. Thus a seemingly innocuous offer from an enthusiastic young Jew began its transformation into one of the greatest scandals in the history of Israeli intelligence.
When Pollard is released from confinement, in about two months, he will presumably be depicted as a national hero, as the man who sacrificed half his life for the sake of his people's security.
The real story is far more complicated. It is a story of an unbridled desire for secrets and greed.
Israel was not Pollard's only client. No one emerges unscathed from this tale – not Pollard, not his handlers and not the government that hired him.
This is the untold story of the Jonathan Pollard affair.

Pollard is scheduled for release on November 20 after three decades of incarceration. He is to be released under certain restrictions. He will not be permitted to leave the United States for the next five years, and will not be allowed to give interviews and tell his story during that period. The Israeli government can be grateful for this: The restrictions can help prevent, or at least forestall, embarrassing revelations.
Intelligence service professionals are wary of agents who are motivated by ideology. The services recruit volunteers now and then, but quickly makes them salaried employees, people who depend on benefits from their handlers.
For the purposes of this article, I met someone who was one of the greatest recruiters in the intelligence community, a professional whose methods are still studied in the Mossad. "The moment of victory in recruitment," he said, "comes only after the agent agrees to receive monetary compensation. Pollard was no different from any other agent, no better and no worse."
Pollard was recruited to Lekem, the Bureau of Scientific Relations, an intelligence agency run out of the Defense Ministry. The agency was founded in 1957, when Shimon Peres was deputy defense minister.
According to foreign reports, Lekem dealt with intelligence gathering in the field of science and technology in order to advance Israel's nuclear program. Allegedly, the agency gradually expanded its fields of activity. It was, essentially, the defense industry's intelligence agency.
Lekem was a natural destination for an American agent, because Mossad, which handles agents in several countries, avoids activities in the United States. Mossad and the CIA have a mutual agreement not to work in each other's countries.
Lekem was then headed by Rafi Eitan, one of the most veteran members of Israeli intelligence. The defense minister at the time was Moshe Arens. Eitan told Arens he had an extremely valuable asset in the US, but refrained from revealing the agent's name. Arens's military secretary, Danny Yatom, logged details of this meeting.
During Pollard's employment, some in the intelligence community raised concerns about the damage he might cause. The detractors didn't know it, but before Pollard's recruitment he had tried to join the CIA but was rejected – both because of a reliability problem and the claim that he was a drug user.
These Israeli detractors pointed to recklessness, unreliability, and a tendency towards outbursts on Pollard's part. These concerns were rejected. The intelligence community was so enthusiastic about what Pollard had to offer that it chose to ignore any red flags. Pollard was Lekem's trump card over the Mossad and the Military Intelligence Directive.
Rafi Eitan took all of the necessary steps to make Pollard a paid asset. He ordered his operators – Illan Ravid, the deputy science attaché at the Israeli embassy in Washington DC, Yossi Yigur, the science advisor at the Israeli consulate in New York, and Col. Aviem Sella – to flood Pollard with cash. When Pollard asked his girlfriend, Anne Henderson, for her hand in marriage, Lekem made sure to provide him with an expensive diamond-studded engagement ring, and flew the couple to Maxim's in Paris. Illan Ravid and Aviem Sella shared a table with the happy couple in the famous restaurant, one of the world's most lucrative.
Eitan saw in Pollard what operators see in an intelligence asset: A perishable good. One day the asset will be burned, it's his fate. Meanwhile, we need to take as much advantage of him as we can. That was also the attitude of Yitzhak Shamir, a veteran asset operator. When Pollard was arrested, in November of 1985, Shamir was minister of foreign affairs in the unity government. "Pollard's job," he said, "is to sit in prison and stay silent."
Shamir was one of the few who were not impressed with the pleadings of organizations trying to help Pollard. He refused to talk about Pollard in his meetings with American leaders. Neither Shamir nor Eitan ever thought that Pollard would turn into an Israeli hero, into a version of Gilad Shalit, into everyone's spy.
Operation Wooden Leg
Ronald Olive, an American Navy man who was a member of the team that investigated the Pollards, published a book in 2006 entitled Capturing Jonathan Pollard. The book was not published in Hebrew. Among other things, Olive inspected the extent of Pollard's spying activities.
He claimed that Pollard stole, and then brought back for shredding, an industrial amount of documents - more than a million pages of material, classified at the highest level. In American intelligence courses, it's said that if all of these documents were put together in a room, they'd take up 40 cubed meters.
Pollard supplied, among other things, photos taken by American spy satellites. Israel didn't have spy satellites of its own at the time, and the US wasn't willing to share its photos with Israel. There were pictures of chemical and biological weapons plants in Iraq and Syria, nuclear sites in Pakistan, Military installments in Egypt and PLO camps in Tunisia. The Tunisian photos helped the IDF plan the October 1st, 1985 air strike on the Tunisian PLO camps, known as Operation Wooden Leg.
Pollard's appetite for secret documents was insatiable. According to Olive, after he supplied them with codes for Soviet nuclear sites and Russian aircraft carriers, his Israeli operators understood that he was going too far. Stop, they told him, don't sneak out documents that aren't connected to Israeli security interests. Pollard didn't stop. He sniffed documents like a junkie sniffs cocaine. And speaking of cocaine, some of the money Pollard got was used to buy drugs. He and Anne used them during Jonathan's period as a spy. It came up during the Americans' investigation.
Pollard didn't keep secrets from his wife. High-ranking members of Israel's defense and intelligence community would eventually admit that this was one of Lekem's severe mistakes in handling Pollard. He wasn't given a cover story to tell his wife. On the contrary: She was in on the secret, she knew who he was spying for, and what he was getting in return.
At a certain point Anne Pollard asked her husband why he only contacted Israel. The merchandise he extracted from the navy's computers could interest other countries, and they'd be happy to pay for it. Jonathan was convinced. According to his interrogators, he sold documents to China, Taiwan, and South Africa. When he was caught, he had in his possession a briefcase filled with documents about the People's Republic of China that he hoped to sell to Taiwan.
His colleagues at Naval Intelligence Command (NIC) started suspecting him in November of 1985. Pollard understood that he was in trouble. He requested an urgent meeting with Aviem Sella. They met on Thursday, November 20th, at a seafood restaurant in the DC suburb of Chevy Chase, Maryland. Pollard told Sella that he was interrogated by FBI people. They suspected him of selling secrets to South Africa. The two went over the escape plan that had been prepared. Pollard was scared. Sella tried to calm him. If you're caught, he said, never reveal the identity of your operators. Sella quickly left the restaurant, took a train to New York and managed to catch a flight to Europe that same night, and then another to Israel.
Following their plan, The other Israelis did the same. In 24 hours, all three were outside the US. Illan Ravid flew to Miami, then to Israel through Mexico. Yossi Yagur went to Canada, and from there to Israel. Irit Erb, the secretary who was responsible for receiving and copying the documents, also fled to Mexico, then to Israel. The Israelis made sure they cleaned the apartment which housed their copy machine, which was located just down the street from the embassy.
Pollard was given an escape plan to memorize: Get on a train from DC and cross the border to Canada as quickly as possible. Due to his panic, he abandoned it. On the afternoon of Friday, November 21st, Pollard and his wife were driving their car, document briefcase in tow, toward the Israeli embassy building on International Drive. When they were close to the building, Pollard pressed on the gas pedal. A number of cars, full of FBI agents, followed.
Pollard wanted to enter the embassy parking lot. The gate wouldn't open. A guard stepped out. "I'm an agent of the state of Israel," Pollard shouted, "I've been exposed. I'm asking for asylum. If you don't let me in, they'll arrest me immediately." The guard was unimpressed. He thought it might just be a weirdo. He called his boss and asked what he should do. He was told to remove Pollard immediately. Embassy security didn't have a clue who pollard was.
Later, stories were circulated about embassy envoy Elyakim Rubinstein, who now sits on the Israeli supreme court, being the one who ordered Pollard to be turned away, and thus the one responsible for his "extradition." The truth of the matter is that Rubinstein wasn't even in the building, and no one asked him what to do. He was eating lunch outside the Embassy.
Years after Pollard started serving his sentence, Rubinstein sent a letter to newspapers in Israel, dispelling the rumors. It's very safe to assume that, had Rubinstein been there, he would have made the same decision the embassy security officers did. The same goes for Rafi Eitan, who'd eventually say, "The Pollards should have been immediately sent away from the compound. He, and only he, brought about his own end."
The guards' actions prevented Israel from being severely embarrassed. The United States is a law-abiding country. Israel can't harbor an American citizen in its embassy basements as if he were an American diplomat running from Iran's Ayatollah regime.
Friendly Spying
Jonathan and Anne Pollard were arrested on the spot. In the first three days, they tried lying to their interrogators who pointed to Pakistan and Australia as countries to which he had sold documents. Olive wrote in his book that had the two not sought asylum in the Israeli embassy, their secret might not have been exposed so fast. He wrote that at first, the investigators didn't know Pollard was Jewish.
Press reports pointed to Israel as the immediate suspect. One by one, the Israeli diplomats in Washington were called in for clarification talks with the Americans. The US government didn't fail to notice the fact that Israeli diplomats had quickly left the country, and that consulates with scientific representatives in four cities were busy evicting the offices and shredding documents. The scientific representative offices were actually, in part or entirely, arms of Lekem, whose existence wasn't known until that point, inside or outside Israel. It was eposed for the first time following the arrest, in the American media. Israeli officials denied all connection to the matter, which only increased America's fury.
Was the feeling of betrayal in the US government justified? You have to admit, first of all, that America, despite the friendly relationship, didn't hesitate to hide meaningful intelligence from Israel, and most notably – allowed itself to absorb classified information from Israelis – both civilians and military personnel. Israeli scientific professionals, including nuclear experts, were given tempting offers by American sources.
When Israeli officials point this put to Americans, the answer they get is: We're a superpower, you're a state that depends on our aid. There can't be equal treatment. You don't need a lot of imagination to figure out how Israel would have acted if it found out an Israeli had been recruited by American intelligence. The affair would have been silenced right away (until the next time an ex-defense minister gave an interview).
That aside, the feeling of betrayal was completely genuine. Pollard was an American Citizen who committed treason. The scale of his treachery was unbelievable. Israel was a friendly nation whose government lied without shame or remorse. That kind of behavior isn't taken lightly by the Americans.
In addition, the question of dual loyalties was awakened. The heads of the American defense system raise it in the context of security, and not necessarily regarding Jews. They talk about "friendly spying", whose source is an emotional, ethnic of ideological appeal. The four ethnic groups that are seen as most likely to bring about spies of this type are Chinese people, Jews, Italians, and Irish people.
The US is a nation of immigrants. It expects that every ethnic group will keep tight contacts with the old country, but also show their unwavering loyalty to the stars and stripes. The more Pollard's advocates, including he himself, including his new wife Esther, emphasized his connection to Israel, the worse they made his situation. His case became a symbol, a way to deter other ethnic spies.
An existential dilemma
While Pollard's interrogation was ongoing, the Reagan administration decided to give Israel a dilemma that can only be described as existential. Either Israel gives in to the administration's demands completely, or the two countries' strategic cooperation will be halted and the supplies of weapons from the US will be suspended.
And these were the demands: Israel shall publically apologize, return all documents it holds, including satellite photos, commit to never operate spies inside the US again, and allow American representatives to "interview" all those involved in the Pollard affair (who will be given immunity). As for Pollard, If American representatives are satisfied with Israel's cooperation, it would be agreed that pollard will serve a sentence of up to 20 years in prison.
The task of communicating the ultimatum to Israel was given to Secretary of State George Shultz, specifically because he was considered a friend of Israel. Shultz joined President Reagan, who was in Houston, Texas, for his Christmas vacation. Before Shultz went on his own vacation to the Caribbean Islands, he phoned the Israeli prime minister.
On Saturday night, the 28th of December 1985, Shultz called Prime Minister Shimon Peres. The time of day in Israel was 3am. The hour was brutal, but not as much as the American's State Secretary's message. The two talked for nearly an hour and a half. In the end, Peres gave in to all American demands.
The two agreed that an American delegation headed by Abe Sofaer, the state department's legal adviser, would come to Israel soon to settle the details of the matter with Shin-Bet head Avraham Shalom and Israeli legal representative Ram Caspi, so that Shultz's demands could be met.
Peres gathered a cabinet meeting to present the agreement with Shultz. Among those in attendance were former (and future) Prime Minister Yitzhak Shamir, Defense Minister Yitzhak Rabin, and former Defense Minister Ariel Sharon. During the meeting, Sharon asked to speak. "I'm coming back from a trial regarding my suit against Time Magazine for libel," he said. "I see before me the American lawyers, coming into the court room with yellow legal pads and sharpened pencils. Make no mistake – they come prepared and leave nothing uninvestigated.
"Let's admit it, we can't fulfill all of the commitments that Shimon took upon himself," continued Sharon. "There are things that a country, even a small one like ours, can't give to foreign bodies. That's why I suggest that, before we slide into a situation we can never get out of, I suggest that both Prime Ministers, Peres and Shamir, speak to the media, express regret, apologize to the American people, and promise that Israel will not repeat its mistakes. And that's how we end the affair. We won't return documents, and won't allow the Americans to interrogate our people. It's better to stand against the Americans in one fight and close the book on the mess we find ourselves in, than tangle ourselves in a series of unending scandals."
Sharon voted against the agreement Shultz dictated to Peres. Only one other cabinet member joined him – Finance Minister Yitzhak Moda'i. The majority voted for it.
But in practice, following all of the American demands was a burden the Israeli government didn't want to, and couldn't carry. Sorrowfully, the government started covering up – dispensing of, and falsifying, evidence. We've been paying ever since for the mistakes made then.
When Pollard started singing
Even before the Abe Sofaer-headed team arrived, it was decided in Israel that Col. Aviem Sella had to disappear. He was smuggled to Cypress. The hope was that since he wasn't on the list of those who were supposed to be "interviewed," his interrogation could be skipped. The first meeting between the American team and their Israeli colleagues was held in a hotel on the outskirts of Tel Aviv. It was agreed that those involved in operating Pollard would enjoy immunity if they speak the truth and the whole truth. If it were found that they lied or omitted information their immunity would be revoked, following a second hearing they would be entitled to.
The evidence gathering began in an Israeli Military Industries (IMI) facility in Ramat Hasharon, attended by both sides' lawyers and security officers who were told to halt the proceedings if state security was threatened. Rafi Eitan hired Dov Weisglass, who had previously represented Ariel Sharon during the investigation of the massacre in Sabra and Shatila, to be his attorney. In his testimony, Eitan took full responsibility for recuiting and operating Pollard. "None of those above me, not the prime minister or the defense minister, knew about Pollard's operation," testified Eitan.
When asked if there were any more people, beyond those called to give testimony, who were involved, Eitan simply said "There was one more Israeli." American investigators didn't ask who he was referring to.
A problem arose in the very first day of the investigation: How would Israel meet its obligation to return all of the documents Pollard gave it? "We demand the original photocopies you got, not the copies you made for us," the FBI investigators told the Israelis. "The Israelis tried to fool us," said American sources who spoke to me.
More than that, the American's examination of the navy's computers in Maryland indicated that not all of the documents extracted by Pollard were returned. Investigators came to the conclusion that Israel was hiding something. Right after the American delegation came back to Washington the investigators presented Pollard with piles of documents the Israelis gave them. "The Israelis sold you out, they gave us all of the documents you stole," they told him. Pollard understood he was thrown to the wolves and reacted accordingly. "That's not all of the material," he said, "they lied to you too."
Pollard's decision to cooperate with his interrogators didn't come long after that. He started singing and didn't stop. The interrogators had a hard time getting him to pause his speech. "My lead operator was an air force colonel named Aviem Sella," he said. He added Yossi Yagur, Illan Ravid, and Irit Erb's names to the list. He described in detail the places where they met during his operation, from 1984 until his arrest in 1985. He told them about the apartment he'd come to with briefcases full of documents, and when he would get them back. He told them he would later shred the documents in his office.
When I talked to a high-ranking American official who was exposed to the catastrophe pollard had caused his country's intelligence array, his anger was as if it had happened yesterday, not 30 years ago. "We give you a lot," he said, "it's our right to save something to ourselves. You don't have the right to infiltrate our facilities and blindly rob secrets we produced with great effort."
A small man
The reveal of Aviem Sella's name convinced the American government that Israel was lying. Sella was one of the IAF's most prominent officers. He was considered as a leading prospect for commanding the air force in the future. If this kind of man was selected to operate Pollard, it's not an unauthorized action, a defiance of authority. Peres, they concluded, cheated Shultz.
The Americans told Ram Caspi that the arrangement between the two sides was cancelled. All those involved in affair would be indicted for espionage in American courts. Aviem Sella would be included in the smaller group of people indicted for severe espionage. The decision caused a huge team of people to be sent to Washington, including some of Israel's best lawyers.
The Israelis asked for the advice of Leonard Garment, a Jewish lawyer and a friend of Republican administrations who had been a legal advisor for Presidents Nixon and Ford. Garment told of the meeting in a memoir he published in 1997. He wrote that Ram Caspi looked to him like a typical Washington macher, and that he showed a complete lack of understanding about subjects that arose during the meeting. Garment didn't believe him.
One member of the group didn't introduce himself. Garment saw in front of him a small, dwarfish man. When he asked his name, the man said Garment could call him Abraham. He was, in fact, Avraham Shalom, head of the Shin-Bet. In a bizzare move, which some have called a bad mistake, Peres decided to give Shalom the task of handling the aftermath of the Pollard affair. Shalom was still involved in scandal due to the bus 300 affair (in which Shin-Bet officers were accused of killing several terrorist suspects who were in their custody who had bombed a bus on the no' 300 line, instead of arresting them in for trial). In order to avoid responsibility for the murders, he established a mechanism for falsifying evidence, a mechanism that threatened to destroy the Shin-Bet from within. Shalom had to go from falsehood to falsehood, lie to lie. As he admitted years later, it didn't work.
The Israelis told Garment they were going to meet with George Shultz. He advised them to speak honestly. Don't try to spin him, hell expose your lies and never forgive you, he said. Either make sure everything is given to the American investigators or admit that you can't give them everything, but don't try to invent a story and hide relevant information, he said. His advice was not followed.
Garment was involved with the matter in another way. Aviem Sella's brother, Menahem Sella, was the son-in-law of former Israeli Minister of Justice Haim Zadok. Zadok asked for Garment's help. Garment met with Col. Sella, who made a deep impression on him. Unlike other Israelis, Sella told him the truth about Pollard's recruitment and operation. Garment pulled strings to try and get the indictment dropped, without success. The Israeli side prepared drafts that half-admitted the government ranks' responsibility. All of them were rejected by Thomas Pickering, the United States' aggressive ambassador to Israel. Pickering stood his ground: Everyone, including Peres and Rabin, knew. Everyone encouraged it.
The final phase of the American feeling of betrayal was the conclusion they reached, that Pollard wasn't alone. They were convinced, rightfully or not, that Israel had operated other "Pollards," maybe even higher-ranked than Pollard, and it was possible they still worked for Israel.
This conclusion was based on the fact that Pollard's operators had pointed in certain, specific, exact directions. The Israelis, the Americans claimed, knew very well what they were looking for. The American system had a traitor inside it who was guiding them (the Americans call this type of guidance "tasking").
The assessment that the Israelis had penetrated the very heart of the American security system and were continuing to spy there, follows the heads of their government and intelligence bodies to this day. Those in charge of information security in American intelligence bodies have investigated the past and present connections of high-ranking Jewish members of the National Security Council (NSC), state department, military industries, and intelligence community. The cloud of suspicion hasn't dissolved to this day. This atmosphere affects the confidence of Jews in high government positions. It also affects the way clerks of different ranks treat Israeli messages, and how they look at Israel's expectation of diplomatic diplomacy.
The Pollard affair broke at an uneasy time in Israeli politics. Israel was still feeling the sting of the continuous conflict in Lebanon, two and a half years after it had begun. The Bus 300 affair was casting a dark shadow over the Shin-Bet. All of this trouble ended up at the feet of the unity government, and eventually became the glue that allowed it to survive. The government was ruled by a triumvirate: Peres, Shamir, and Rabin. It received the lofty nickname of "the prime ministers' club."
Despite the fact that Rabin and Peres represented the same party (or perhaps because of it), Rabin got along better with Shamir. Despite their rivalries, the trio had one powerful, unifying common interest: Emerging out of these two scandals, Bus 300 and the Pollard affair, with their personal image intact, both in Israel and the US. The Knesset's foreign affairs and defense committee formed a special investigative committee to look into the Pollard affair, headed by its chairman, legendary Israeli diplomat Abba Eban. Each side recruited MKs whose mission was to protect them from within. Ehud Olmert and David Magen joined the committee to keep Shamir out of trouble. Haim Ramon and Michah Harish did the same for Rabin and Peres.
Rafi Eitan was a central witness in the investigation. "He was the only man," said one of the leaders of the defense community at the time. Eitan testified, saying it was all him; he was the recruiter, the operator and the distributer. He was the only one who knew about Pollard, the only one who held the original documents. The truth was, of course, quite different. Eitan shared Pollard's output with everyone, from Peres, Shamir and Rabin to the head of the IDF Military Intelligence Directorate (Aman) at the time, Ehud Barak. But Eitan preferred to cover them all by taking the blame. Abba Eban had his own agenda: He wanted to get Rabin back for ending his tenure as foreign affairs minister in 1974.
Thanks to the four protector members' work, the special committee's investigation came to the conclusion that the heads of government – Peres, Rabin, Shamir, and Arens – were not aware of Pollard's activities. Even so, Abba Eban agreed to insert a sentence into the committee's concluding remarks which indicated Peres and Rabin's ultimate responsibility for the failures related to government bodies under their power. That was Eban and Olmert's joint gift to Shamir. It came back to hurt Eban, though – in 1988 Rabin and Peres pushed him out of the Alignment party's group of realistic Knesset candidates.
Weinberger's lie
On March 4, 1987, at about 4pm, a cold and rainy day, Judge Aubrey Robinson's federal courtroom was silent. Jonathan Pollard came into the room, accompanied by armed guards. It was my first chance to look at him. He looked around, searching for the familiar faces of his parents and sisters. He seemed exhausted and irritable, holding his hands together, and momentarily forming them into fists. I asked myself what he was hiding.
Based on a previous agreement between his lawyers and the prosecutors, Pollard agreed to admit to spying for a country friendly to the US without the intent of harming national security. The prosecution wanted to hand him a 20 year sentence, pending the court's approval of the plea deal.
And then Judge Robinson sat down. He spoke in a whisper. From where the public sat, it was hard to hear what he said, but reading Pollard and his attorneys' expressions made it clear that something dramatic was happening before my eyes. The judge decided to reject the deal and sentenced Pollard to life in prison, and it was recommended that he never receive parole. "He'll be in prison until the end of his days," an American colleague whispered to me.
The sentence was based on an opinion submitted to the court by Secretary of Defense Casper Weinberger. It was 46 pages long, and classified top secret to this day. In it, Weinberger detailed the damage he thought Pollard's actions had caused to America's security.
Eventually, parts of the document leaked. It was claimed that Pollard revealed the names of agents recruited by the US to spy in the Soviet Union. Those names allegedly reached the Soviets, who executed over 20 agents.
That claim turned out to be a total lie. The man responsible for giving those names up was Aldrich Ames, a veteran CIA officer who spied for the Soviets. Did Weinberger, Israel's biggest rival inside the Reagan administration, intentionally lie, or was he deceived by his sources? That question remains open. Another claim that came out of the Weinberger document was that Israel, in defiance of the agreements it made, did not cooperate with the American government, and operated dozens of other spies inside the American intelligence community.
Not on the phone
Ben-Ami Kadish, a retired mechanical engineer, retired from his job at an American military factory in 1990. A little while later, he moved with his wife Doris to an assisted living facility in Monroe, New Jersey. Their quiet routine was interrupted on March 19, 2008, when FBi agents knocked on their door. They hit Kadish with a severe allegation. "You worked with Jonathan Pollard and harmed the national security of the United States." Kadish was 85 at the time. "What are you talking about? I don't understand what you want from me," he answered, frightened.
The agents left their cards with him, instructing him to call immediately if he remembered anything. Scared and worried, Kadish quickly called Yosef Yagur in Tel Aviv. Yagur was his operator in Lekem in the 80s, in conjunction with Pollard. As Kadish should have anticipated, the FBI was tapping his phone. The next day, they came back to his assisted living facility and arrested him. The Americans hadn't forgiven or forgotten.
Kadish admitted that for nearly ten years he gave Yagur outlines of nuclear weapons, as well as improvements to the F-15i fighter jet and to Patriot missile systems. "I thought I was helping Israel and not harming my country," he told his interrogators.
Yagur quickly called his superiors and reported the conversation. His report was communicated to the office of Prime Minister Ehud Olmert straight away. Olmert understood that he had to extinguish this flame, before it became a huge blaze. He spoke on the phone with President George W. Bush and other American officials, promising to launch an investigative committee, headed by his chief of staff, Yoram Turbowicz, and staffed by defense community leaders. The committee met in secret and wrote a full report that was given to the Americans.
Ben-Ami Kadish pled guilty to a series of charges and was sentenced to pay a fine of $50,000. Due to his advanced age, the authorities didn't insist on his incarceration. In December he came to the court, leaning on his cane. After expressing his regret, he was sent back to his home. He died in 2012.
Pollard's sentence shocked many in Israel, and perhaps also made a few feel guilty. His operators were damaged, but stayed out of jail. The Americans prevented Aviem Sella from being appointed as commander of the Tel Nof airbase. His IDF career was de-facto over. Rafi Eitan's career actually advanced however. He was a high-ranking minister in the Sharon and Olmert governments. He couldn't go to the US, at least in theory.
The governmental ranks weren't harmed at all. In that sense, the decision to lie to the Americans served them well. They knew about the government heads' involvement, but chose to act in restraint.
The question was what to do with Pollard. Israel, as a given, funded the legal battles for him and his first wife. At first he was an American who was recruited on a mission and got caught. Responsibility toward him was limited. Slowly, he changed his status. Pollard went full circle, and went back to being the young and enthused Jewish man who wanted to save Israeli lives.
MK Ophir Pines of the Israel Labor party became head of the lobby to release Pollard. Ehud Barak, in his role as Interior Minister in the 1990s Rabin government, decided to grant Pollard Israeli citizenship. Haim Ramon, who became Interior Minister after Barak (Rabin's assassination in 1995 caused several shifts in the government), realized the decision.
And then the Israeli right adopted Pollard as proof of the United States' treachery, and of the anti-Semitic sentiment it harbors. Pollard found religion in prison, divorced his wife, Anne, and married Esther, an orthodox Jewish Canadian woman. Ministers went to see him in prison. Ambassadors were told to visit him.
Prime Ministers visiting the White House brought up the issue of Pollard's release. Some did it because they had to, some genuinely sought to show the man some sympathy. "Was Pollard mentioned?" Israeli journalists covering the PM's visit to Washington would ask. Pollard was mentioned, came the answer. He was always mentioned – not in direct conversations with the president, but in general talks with government officials.
When David Libai was minister of justice he met with his colleague, US Attorney General Janet Reno. Libai spoke about Pollard's release for nearly an hour. Reno said "thank you very much," and that's how the meeting ended. Elyakim Rubinstein brought the matter up in every one of his visits to the American capital. The most insulting response he got was from Dick Cheney, while he was still secretary of defense. When Cheney heard Pollard's name come out of Rubinstein's mouth, he stood up and listened, and when Rubinstein finished he answered with a curt "don't bother."
Clinton followed the Israeli lobbying angrily. "Instead of contacting me, why don't you go to Pollard?" he once said to Yitzhak Rabin, "first get him to express regret." A high-ranking White House official, who was pestered by an Israeli diplomat to release Pollard, answered with an offer: Instead of talking with us, ask for a CIA briefing on the matter. Maybe then you'll understand the damage Pollard did to us, and stop your nagging.
Netanyahu tried to get Pollard released twice. The first time was during the Wye talks in October 1998. Netanyahu was willing to release hundreds of terrorists if Pollard, free and cheerful, would be allowed to get on a plane and fly to Israel with him. President Clinton promised to consider it. When the story got out, CIA Director George Tenet came to him and spoke for the entire community of intelligence leaders. We'll all resign of that deal goes through, he said. Clinton backed down.
Pollard's name came back again in the spring of 2014. Mahmoud Abbas demanded the release of hundreds of Israeli Arabs carrying life sentences for terrorist acts. The right blamed Netanyahu for giving in to terrorists. He was trying to make a deal that would involve a reduction of Pollard's sentence. Both times, Pollard didn't really interest Netanyahu. He was just a way to affect Netanyahu's image with right-wing voters, a distraction tactic.
At the end of the day, the efforts to free Pollard haven't knocked one day off of his sentence. Recently, there were stories in the press that said a Swiss bank account with $2 million, the wage his operators promised, was waiting for Pollard when he gets out. Such an account doesn't exist, but there is an obligation, and there's neither intent nor ability to shirk it: Israel will take care of Jonathan Pollard until the day he dies.
Pollard and Me: 3 hours, 30 years
I've been following the Pollard affair for 30 years. In the summer of 1986 I came to Washington as an Israeli Broadcast Authority (IBA) correspondent. The Pollard trial was going on. The mood among Jewish government members, at least those who dealt with Middle East issues, was very bad. "Don't call in the next few months," Dennis Ross, who would eventually be a senior advisor to four presidents, told me when I met him at the Jewish community center. Others asked for the same.
I first saw Pollard in the courtroom, at his sentencing. In 2004 I traveled to the federal prison in Butner, North Carolina, to interview Pollard for Yedioth Ahronoth. The interview took place in a large room, with a naval intelligence officer present, and lasted over three hours. Pollard was bitter. He claimed that Israel gave him up to the Americans. "Help me get out of this hole," he begged. His second wife, Esther, lives meekly in a small town near the prison. She's devoted her life to the campaign for her husband's release.
In the past few months I've spoken to many of those involved in the Pollard affair, on both Israeli and American sides. After 30 years, and near the end of his incarceration, they felt it was time to tell the truth, despite, and maybe because of, the fact that this truth doesn't necessary align with the myth that was created around the man.
Response
The committee for the release of Jonathan Pollard responded to this story by saying, "We are saddened to see that the reporter chose to put accusations that have never been court-tested in the story. It should also be mentioned that the Americans have acknowledged that Pollard began working as an Israeli agent without any compensation, and only started accepting a salary after about six months, at his operators' advice.
"The only crime Jonathan was convicted of is transferring classified information to Israel, an offense for which he's served his sentence beyond any proportion. Even after paying an unimaginable price for 30 years, Jonathan isn't asking to be looked at as a hero, but he deserves to at least be spared more suffering."