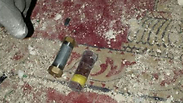 Pipe bombs discovered by Israeli police
Palestinians barricaded themselves Sunday morning, just before Rosh Hashanah, inside the mosque on the Temple Mount. Police forces broke into the compound and confiscated some of the equipment brought there by the Palestinians.
The rioters threw fireworks and stones at the police as they entered the site. Border Police forces then blocked entry to the Temple Mount.
Clashes on the Temple Mount
Police said that Saturday night several pipe bombs were found while searching an apartment in East Jerusalem. At the same time it became clear that Arab youths, some of them masked, barricaded themselves Saturday night at Al Aqsa mosque on the Temple Mount.
Those barricaded inside collected stones and firecrackers and set up blockades composed of shoe racks, steel bars, rope tied to the doors of the mosque, massive umbrellas, nets and more to prevent the closing of the mosque's last front door. This was done in order to confront the policemen and obstruct routine visits to the area of the Temple Mount on the eve of Rosh Hashanah.
The police said that forces under the command of the District Commander, Major General Moshe (Chico) Edri, surprised the rioters and entered the Temple Mount area at around 6.45am, in order to allow the start of visits to the mountain area at its usual time.
As soon as police and border police forces entered the area masked men fled into the mosque and started throwing dozens of rocks and stone blocks at the forces along with dozens of fireworks fired directly at police.
Edri said that this was a "serious incident. We were prepared for any possible scenario and the police, the Special Patrol Units and the Border Police soldiers deserve praise for their professional work and determination which ended the riot quickly and allowed the opening of the Temple Mount to visitors at the appointed time.
"We are investing significant resources to allow the freedom of worship for all religions in Jerusalem. We will continue to work and show zero tolerance for any attempt to disturb public order and undermine the status quo on the Temple Mount."
Palestinian President Mahmoud Abbas "strongly condemns the Israeli attack" against the Al-Aqsa Mosque, his office said Sunday.
"The Presidency strongly condemns the attack by the the occupier's army and police against the Al-Aqsa mosque and the aggression against the faithful who were there," said his office. "East Jerusalem and the Christian and Muslim holy sites are a red line; we will bear attacks against our holy places."