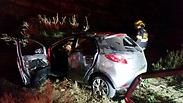 Emergency personnel at the scene
Photo: Jerusalem Fire and Rescue Services
A man in Jerusalem was fatally wounded on Sunday night, the eve of Rosh Hashanah, when he lost control of his car after it was reportedly pelted with stones.

The vehicle struck a power line and tumbled into a roadside ditch. Police said they were investigating if stones thrown at the car caused the accident.


The driver, Alexander Lebelovitch, a man of about 50, was taken to Shaare Zedek Medical Center by an MDA team while paramedics attempted resuscitation in the ambulance. He succumbed to his wounds on Monday morning.

Two others were lightly wounded in the incident.

Jerusalem police said the passengers were returning from a Rosh Hashanah holiday dinner when they drove on a route on which Arabs were throwing stones.

However, questioning of the other passengers suggested that the driver had convulsed before losing control of the car, and police decided to continue investigating the cause of the accident.

Police said there had been numerous reports of stone-throwing in the area before the incident.

Sunday saw clashes in Jerusalem ahead of Rosh Hashanah. Palestinians barricaded themselves inside al-Aqsa Mosque on the Temple Mount. Police forces broke into the compound and confiscated some of the equipment brought there by the Palestinians. At least nine people were arrested on Monday mornings as clashes continued.

An official at Prime Minister Benjamin Netanyahu's office announced that the prime minister would convene an "emergency meeting" over recent attacks.

Netanyahu will hold the consultations with top ministers Tuesday night after the Jewish new year holiday of Rosh Hashanah ends. "The prime minister views with great severity the throwing of rocks and fire bombs against Israeli citizens and intends to fight the phenomena by all means, including increasing punishment and enforcement," the official said anonymously according to protocol.