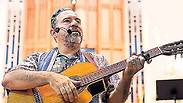 Rabbi Ken Aronowitz, master ukulele player
Photo: Hawkins Biggins
A stunning rainbow welcomes me as I step off the plane in Hawaii. It's a common sight in this tropical habitat – so common in fact, that the local Jewish community even has a special blessing for it.

Hawaii's Jews take great pride in their little piece of paradise, the land of "Shaloha" (a portmanteau combined of "shalom" and "aloha").

Yet not everything is idyllic. As I landed just before Shabbat in Oahu, the most populated island in the archipelago and home to the state capital, Honolulu, I was welcomed by an uneasy Jackie Lau, the president of the Reform congregation, numbering some 180 families. The reason for her concern was the number of people expected in shul that evening. The beach and the waves are a serious competition, said Lau, who lives with her Chinese-American husband Rodney in a villa in the midst of a tropical rainforest.

Rabbi Ken Aronowitz, the leader of the island's largest synagogue, Temple Emanu-El, explained that big waves are a direct threat to their Shabbat service. As a solution, Temple Emanu-El has decided to hold a late-night Shabbat service, at 11pm, to accommodate the latecomers.

The waves are a threat of existential magnitude to the Island's handful of synagogues, who struggle to complete a minyan. This is not the case at Emanu-El, where men and women pray together – yet that night only 40 people showed up, many of them elderly men in Hawaiian shirts. The turnout was about a third of the previous Shabbat.

The disappointing turnout doesn't in the least inflict on the magical atmosphere. Rabbi Aronowitz, a singing rabbi second only to the late Shlomo Carlebach, takes center stage, wearing an aloha skullcap that matches his shirt. Equipped with a guitar, a keyboard and a ukulele, he sings and recites the blessings in Hebrew, translates them into English and presides over a merry sing-along.

When I stepped into the synagogue, I received the customary welcome, when Rabbi Aronowitz placed a wreath around my neck, and the congregants surrounded me, singing and dancing. Shaloha, Hawaii.
Pacific Jews
The first Jews to arrive in Hawaii, the 50th state, were merchants from California who settled in the remote territory in the 1850s. After its admission to the union in 1898, Hawaii saw further Jewish migration, and in 1901 the community numbered some 200 members. Today, some 600 people are registered members of Reform, Conservative and Orthodox congregations.
Unofficial figures reveal that there are currently 7,000-10,000 Jews in Hawaii, though many of them aren't engaged in community life at all. Intermarriage is particularly ominous in Hawaii, where it reaches 80 percent, among the highest rates in the United States. Many Hawaiian Jews marry natives, Japanese, Chinese Filipinos and Koreans, which explains the Asian features of many of the island's Jewish children.
Rabbi Itchel Krasnjansky, executive director of the local Chabad branch, says that most people who end up in Hawaii flee their old lifestyle in the mainland. An Orthodox rabbi, he says that he's attempting to reach out to them, and their children, before they lose any connection with Judaism. Somewhat ironically, he says, some people discover their Judaism in Hawaii.
There are four Chabad houses in the Aloha State, the biggest of which is in Honolulu. Above the front door hangs an extra-large pink surfboard and next to it lays a stack of colorful aloha yarmulkes.
Rabbi Krasnjansky has lived in Hawaii for 27 years. He doesn't surf, but many of his Orthodox congregants do. Their sidelocks and tzitzit doesn't stand in the way of their performance. In a place with such a vibrant seaside culture, it's virtually impossible not to fall for it.
Yudi Weinbaum, a haredi chef who runs the Chabad House in Rabbi Krasnjansky's absence, says that surfing makes him feel closer to God. The feeling of exultation that surfing sets in motion is only one iota short of what you feel during prayer, he says.
On Shabbat, local Jews visit Chabad House together with Jewish and Israeli tourists. The lunch that is served consists of gefilte fish and tchulent, alongside vodka and exotic fruits.
Many of the Israelis present are young peddlers, who work illegally in shopping centers, making thousands of dollars a month selling souvenirs, cosmetics, clothes, and more. On the Waikiki boardwalk, they stand out thanks to their tenacious sales techniques.
"The Israelis do the kind of sales work that nobody else wants to do, from early in the morning until midnight," says a 29-year-old hair supplies saleswoman called Chen. "And the police turn a blind eye."
They don't always turn a blind eye. One of the biggest shopping malls in Honlulu has recently kicked out all of the Israeli peddlers following complaints that they sold Turkish salt as original Dead Sea salt. It has also been alleged that they scammed thousands of dollars out of an old lady.
One of the most famous guests at the Chabad House that day is 71-year-old Rafi Boritzer, who rides a big BMW motorcycle with license plates ostentatiously saying "Israel." Boritzer fell in love with Hawaii in 1962, when he worked for Israel's merchant navy and came here on assignment. He owns a biotechnology company and is married to Mili, his third wife, a young Bulgarian woman who had just given birth to twins.
"In its prime, the Hawaiian Jewish community reached 15,000 members," he says. "But many people have left because of the high cost of living, and the fact that career opportunities are limited to tourism, real estate and the military bases at Pearl Harbor."
Boritzer's character is as vivid as the Hawaiian shirt he is wearing down to his knees. "In Hawaii, showing up to a meeting in a suit is frowned upon," he would later explain.
Volcanic eruption
I met 64-year-old Pinchas Neumann near the Israeli falafel joint, Shaloha. Sporting a thick beard, long unkempt hair and big blue eyes, he looks like a homegrown Robinson Crusoe.

A native of Acre, he arrived in Hawaii in 1989 to study Zen Buddhism at a local monastery, an experience that proved rather short-lived.

"I felt I couldn't bow to their statues," he says. While in Hawaii, he fell in love with surfing and decided to stay. He ventured into real estate, and quickly became successful. His real estate empire includes a few high-rises on the Waikiki beachfront.

He lives in an 8500 sq. ft. mansion in Diamond Head, the most exclusive neighborhood in Honoloulu, at the foot of an inactive volcano that overlooks the island from a height of 232 meters. Neumann's living room looks like a great hall covered in Persian rugs and the room is decorated with rare artwork from all over the world and Buddhist statues. The garden houses two parrots, Raffi and Tommy, who also speak Hebrew like, "Good morning, Pinchas, Shabbat shalom," and "come here."

He is married to a Jewish woman from Panama, surfs 340 days out of the year, and so keeps an arsenal of 15 sea-ready items – surfing boards both small and large, kayaks, canoes and more. "Have you ever surfed?" he asks and invites me to a lesson at Waikiki Beach at sunset.

Sunsets in Hawaii are divine: The sun is colored a purple-red-orange, and a moment before it is swallowed into the sea, an incredible natural phenomenon occurs called a green flash – a streak of green light on the horizon.

Neumann has organized Independence Day events in Hawaii for a decade, in cooperation with the Israeli consulate in Los Angeles. "3,000 people would come to an event every time," he recalls. "There were stands with Israeli food, stickers in Hebrew, Israeli flags. It was the only event that united all the Jews in Hawaii."

The tradition ended because of a disagreement that erupted within the community about whether to allow Messianic Jews and Evangelical Christians to join the celebration. Orthodox Jews were in favor, while Reform Jews were opposed. Some believe they were concerned that some of their own would defect to the Messianics.

This is far from being the only conflict in the island's small Jewish community. About three years ago, the community was in an uproar over the decision to dismiss Rabbi Peter Shaktman, the rabbi at Hawaii's largest synoaguge. The dismissal was preceded by a vote by the community, which led to tensions boiling over between the rabbi's supporters and detractors. A physical altercation ensued, and a police car was even called to the scene.

Rabbi Shaktman believes that his homosexuality was behind the dismissal. Community leaders strongly deny this, claiming he was dismissed because of his direct and blunt manner, which caused more than a few people to get up and leave.

After the rabbi's dismissal, about 60 people – many of them gay men and lesbians – left with him. They founded a rival synagogue led by Shaktman, located inside a Buddhist temple.

Although he has begun a new chapter, Rabbi Shaktman has not forgotten that conflict so quickly. He says the dismissal was very traumatic, and that he does not understand why he was treated as he was.
A slew of homeless
Cliff Halevy took me on a canoe trip in Kailua, in the ocean near his house. If paradise has a branch on earth, it's there, right next to Cliff's back yard.

Cliff, 58, with long hair that gives him the air of a beatnik, is the Reform Judaism leader on the island. He says Kailua is the most Jewish neighborhood in Hawaii, with a third of the state's Jews living there.

The two villas across from his house – across the canal – also belong to Jews. Cliff points to one, which belongs to a family from Baltimore. Once a year this family rents out the house to one Barack Obama, the president of the United States, who is Hawaiian-born and went to same high school as Cliff.

Obama, Michelle, and their girls often come to the house in Kailua on winter vacations, where they take the rare opportunity to lounge on Pacific beaches. When they visit, the entire area is full of secret service agents. Cliff says the president knows all the neighbors and always waves hello.

But despite the glamorous lives of many members of the Hawaiian Jewish community, some locals have a hard time finding their place. There may be consistently perfect weather, crystal-clear ocean water, and unpolluted air – but Hawaii is becoming an increasingly difficult place to live.

One reason is the cost of living. Housing prices are skyrocketing. It's impossible to buy an apartment in Hawaii for less than a million dollars, and many young people are forced to keep living with their parents.

Furthermore, Hawaii is seeing a rise in the number of homeless people because of the comfortable weather and free bathrooms at beaches. A tent city was even created in central Honolulu, where thousands of homeless people from around the United States live.

Some Jews in Hawaii, a place that few people leave for Israel, are not blind to these issues. The Nefesh B'Nefesh non-profit organization, which encourages immigration to Israel from North America and arranged for my visit in Hawaii in cooperation with the local Jewish community – has in recent years noticed a rise in the community's interest in moving to Israel.

"The problem in Hawaii is that it's difficult to develop professionally outside of the tourism industry," says Zev Gershinsky, Senior Director of Operations at Nefesh B'Nefesh. "Israel offers many more options. Israel is similar to Hawaii in many ways: Warm weather most days of the year and accessibly beaches. This is actually one of the first questions staff at our call center is asked every time someone from Hawaii considering making aliyah calls."

Marc Rosenberg, director of pre-aliyah at Nefesh B'Nefesh, says he sees an aging population and a young generation that is leaving Hawaii behind. For these young people, he says, Israel is a great solution.

Friends of Barak Argov, 24, thought he was crazy when he decided to leave Hawaii and move to Israel as a lone soldier. His father, a former Israeli, is an engineer, and his American mother is a nurse. His family lives right next to the beach. He says Hawaii is the most laid-back place in the US. He had reached the conclusion, he said, that he had to take responsibility for his life and move to Israel – something he always dreamed about.

Argov continued, saying that he felt something of an outsider in Hawaii and struggled to connect with the locals.
Throwing away your sins
As Israelis gathered around their dinner tables for Rosh HaShanah celebrations, Hawaii was still 13 hours behind. Hawaii's Jewish community, that loves to take a deep breath and pass through life with ease, is also the last in the world to welcome the arrival of a new year.

According to local tradition, they will them gather for a ceremony in which they throw their sins into the sea on Waikiki Beach surrounded by coconut trees before sitting down for a picnic.

The ceremony has even led to miracles according to Rabbi Aronowitz. On one occasion, the sin throwers found the body of a young girl in the waves who had apparently drowned. She was frantically pulled from the water and the men of the Jewish community attempted to resuscitate her.

Aronowitz gathered everyone into a massive prayer circle and the girl was saved.