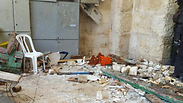 Destruction on the Temple Mount. (Photo: Police Spokesperson's Unit)
In light of recently escalating tensions in Jerusalem, Government officials decided Tuesday night to consider changes in protocol that allows security forces to open fire when attacked by rocks or firebombs.

The decision was made at an emergency meeting convened by Prime Minister Benjamin Netanyahu as part of a larger discussion focused on confronting three consecutive days of violence on Jerusalem's Temple Mount.

An Israeli, Alexander Levlovitz, was also killed on Sunday when Palestinians pelted his vehicle with stones, causing him to lose control and crash.

"We will use all necessary measures to fight against those who throw stones, firebombs, pipebombs and fireworks in order to attack civilians and police," said Netanyahu at the meeting. "We will lead systemic changes and will set a new standard of deterrence and prevention."

It was also decided to push for the establishment of a minimum sentence for rock throwers and to impose heavy fines on minors and their families for the same offence.

The minimum sentence and fines may be difficult to establish however, as Attorney General Yehuda Weinstein is said to oppose the idea on the grounds that a decision was already made last month to increase the severity of punishments on those who throw rocks and firebombs.

Netanyahu visited Wednesday the site of Levlovitz's death saying, "We are changing policy for a war against rock and bottle throwers."

The meeting was attended by key officials including Justice Minister Ayelet Shaked who committed to consider the changes in military protocol and to submit proposals at a similar meeting scheduled for next week.

The issue of how to confront rock throwers is not a new one, and previous suggestions from the prime minister that administrative detention be imposed on offenders was not discussed in the meeting.

Public Security Minister Gilad Erdan was also present for the meeting, but did not raise his previous proposal of rejecting promotions for judges who don't impose severe punishments on rioters.

Jordan's King Abdullah contacted US Vice President Joe Biden over the tensions in Jerusalem, saying that it was up to the international community to take an aggressive stance against Israel's actions on the Temple Mount.

White House Spokesperson Josh Earnest said that the US condemns violence on the Temple Mount and said it was critical that both sides avoid provocation.

Meanwhile, protesters in Amman, Jordan called for the closure of the Israeli embassy and an end to official ties with Israel.