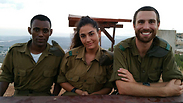 Olim in IDF taking course on basic Israeli culture
Photo: George Ginsburg
The Israeli military course "homeland" on Israeli cinema is about to begin. Sergeant Ron Tsemach, 19, runs her briefing ahead of watching the film "Operation Thunderbolt" (1977) directed by Menahem Golan.
"We are talking about Operation Entebbe, Mivtsa Yehonatan. When did this occur? On July 4, 1976. You should remember the date as if it was your birthday!" she orders. "The operation is named after the commander of Sayeret Matkal, Yoni Netanyahu, who fell in battle. He was the brother of Israeli Prime Minister Benjamin Netanyahu."
The "homeland" course began last July, at the Michve Alon Education and Youth Core base in the Galilee. In essence it is a basic training course combined with a course in Israeli culture and is intended for olim who have enlisted in the army, have spent a certain amount of time in the country, have a good level in Hebrew, but their connection to the country's culture is still weak.
The sharp transition between citizenship and the army is tough for many Israeli-born recruits, all the more so for those who have just made aliyah. The olim taking the course come from various countries such as Ukraine, the US, Ethiopia, Belarussia, South Africa, Georgia, Cuba, Kazakhstan, Kyrgyzstan and others.
The length of the course is seven weeks and includes military discipline given in any basic training course. The soldiers are trained to the rank of infantryman, and in addition, they acquire knowledge in the fields of Israeli heritage, Israeli culture and citizenship. They take classes on Zionism, learn about historical events in Jewish history, battle lore and central characters in history.
Meanwhile, in the air-conditioned classroom, the recruits viewers are without expression as they watch Yehoram Gaon separating from his cinematic girlfriend with a romantic kiss before going off on his fateful mission. They do not recognize him as a famous Israeli actor and singer. For them he is an unknown actor in an old action movie. Without the military discipline it is likely that some of them would easily fall asleep.
The course's company commander, lieutenant Sivan Azualos, explained, "The problem is with the trainees' knowledge of the country. If their parents did not introduce them to Arik Einstein, then Arik Einstein just won't mean anything to them at all."
The lesson plans on Israeli culture were written specifically for the first course by 19-year-old female soldiers. They accurately describe the evolution of popular culture in Israel in recent years. When the trainees are asked to name Israeli artists they know they name Omer Adam, Eyal Golan, Einat Sarof, Sarit Hadad and Avi Bitter. Arik Einstein, Shlomo Artzi and Israeli rock band Mashina don't ring a bell with them.
The instructor focuses on the revolution of Mizrachi music. "Until 2009 it was not a mainstream genre. It was not heard on Galgalatz or on television. Many Israeli artists could not make a breakthrough and get on the radio. So they organized a protest which was successful."
Private Yehonatan Etzion, 22, made aliyah from the UK at the age of 18. Following four years of red tape with the Interior Ministry, he has only now enlisted in the army. "Every Israeli who enlists has brothers or parents or friends that inform him that on the first night there will be a sudden wake-up call. But we had no idea," he explains. "So here it is a little easier, a little more human. The most difficult to learn is how to be patient with Israelis. We need to learn how to use the Israeli expression of "flowing with all the nonsense that happens here."
Is it difficult to become Israeli?
"It is quite easy. This is an open society that wants to attract people."
And If I want to be British?
"You won't succeed, because the British do not like other people."
Private Brandi Kishroni made aliyah from France six months ago. "My father is Israeli, and my mother was French. We went back and forth after my parents divorced," she explains. "I think being an Israeli is to join the army. If I had not enlisted, I would not feel Israeli."
What is most difficult regarding the difference in cultures?
"I'm getting used to the behavior of the Israelis. Not saying 'hello', 'thank you', 'please', 'goodbye', people trying to cut the line in the me supermarket. I've learned not to keep my mouth closed."
Kishroni is optimistic about the prospects of her integrating and she speaks Hebrew well, but there is one thing that bothers her: "Only in Israel do boys go out dressed in jeans, who go to spend a night in the club wearing jeans, a dress shirt – and flip-flops!."