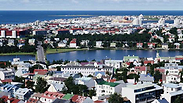 Reykjavik. (Photo: Getty Image Bank Israel)
Photo: Getty Image Bank
The city council of Icelandic capital Reykjavik has passed a resolution banning all Israeli-made products in protest of policy in the Palestinian territories.

The resolution was proposed by Councilwoman Björk Vilhelmsdóttir, who mentioned that she intends to spend the rest of the year doing humanitarian work in the Palestinian territories.

The resolution appears to be purely symbolic, since it didn't mention specific companies or products, and it's not clear if the Reykjavik municipal authorities have even had any business ties to Israeli companies – or if they've been purchasing Israeli products – so far.

The party that proposed the resolution, the Social Democratic Alliance, has a majority in the city council, but not in the Icelandic parliament. The city council has in the past adopted a resolution acknowledging the rights of the Palestinians to independence and a sovereign country of their own. It has criticized what it calls the Israeli government's "racist apartheid policy".

Councilwoman Vilhelmsdóttir said on the matter, "I believe that the city is sending a clear message that it will not purchase products from Israel while Israel oppresses another people on the basis of ethnicity and race, and continues having the wall inside Palestine."

Leader of the Independence Party in the city council, Halldór Halldórsson, was skeptical as to the effectiveness of the resolution and explained why his party chose to oppose it, saying, "free trade is the best way to ensure peace. We should build bridges between people, and business is one of the best connections that exist."

City Council President and Bright Future Party Chairman Björn Blöndal said that the resolution was merely symbolic. According to him, it's a "peaceful way to protest injustice."

Israeli foreign ministry spokesperson Emmanuel Nahshon said in response, "A volcano of hatred is erupting out of the city council building in Reykjavik. Without any reason or justification, other than pure hatred, we hear calls to boycott Israel. We hope someone in Iceland comes to their senses and stops the blindness and the one-sidedness that is directed at Israel, the only democracy in the Middle East."

In general, Iceland is considered very critical of Israel. During 2011's Operation Pillar of Cloud, the country's interior minister, Ögmundur Jónasson, headed a 1,000-person protest in front of the US embassy in Reykjavik, as Israel doesn't have an embassy in Iceland. The protesters waved "blood-soaked" Israeli flags and the minister accused Israel of performing a holocaust on the Palestinian people.

Iceland's former foreign minister, Össur Skarphéðinsson, has also condemned Israel in the past, saying his country would consider cutting diplomatic ties with Jerusalem. In the end it was decided to keep the ties intact, and Skarphéðinsson explained that Iceland also still had diplomatic relationships with Iran, Syria, Sudan, and North Korea.

Iceland was a supporter of the UN resolution to upgrade Palestine to the status of a non-member observer state.