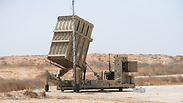 Photo: Yosef Herzl
Photo: Yosef Herzl
Escalating tensions in Jerusalem and the rearrest of Palestinian hunger striker Mohammed Allaan led authorities to deploy an Iron Dome anti-missile battery in the southern coast city of Ashdod Thursday after a situation assessment in the southern command.

The IDF stressed that the move was only a precaution and that there was no immediate concern of rocket fire from the Gaza Strip.

Iron Dome was last seen in Be'er Sheva and Ashdod last month when Allaan's condition worsened while in hospital.

Allaan's administrative detention was cancelled and he was slowly rehabilitated. Upon his release from the hospital on Wednesday, he was rearrested, once again under administrative detention. Allaan is accused of being an Islamic Jihad member.

The holidays in Jerusalem saw riots on the Temple Mount for three straight days and a political firestorm after Palestinians threw rocks at an Israeli's vehicle, causing Alexander Levlovitz to lose control of the car.

Levlovitz died in the wreck and Prime Minister Benjamin Netanyahu convened an emergency meeting to discuss new measures against stone throwers.