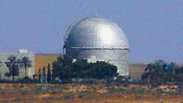 The reactor in Dimona. (Photo: Getty Imagebank)
Photo: Getty ImageBank
In a 61-43 vote, the Inernational Atomic Energy Agency General Assembly on Thursday defeated a proposal submitted by Egypt and supported by Syria, Iran, Libya, and Iraq to force inspections on Israel's nuclear reactor in Dimona.

Israel had been working closely with the US and other Western allies behind the scenes in order to reach a majority that would block the proposal.

Israel has managed to block similar proposals in recent years, saying their purpose was mainly to single out Israel. But this was the first time the proposal was made in the context of the nuclear deal with Iran.

The Foreign Ministry sent envoys to a number of countries on several continents in order to convince them to oppose the two resolutions. Prime Minister Benjamin Netanyahu, who is also acting foreign minister, held talks with several leaders and foreign ministers, and asked them to oppose the motion.

The head of Israel's Atomic Energy Committee, Ze'ev Snir, spoke before the committee yesterday and condemned the Arab group over its attempt to single out Israel. Snir warned that "if the resolution passes, it will only hurt the credibility of the IAEA by politicizing the organization and reducing its valuable resources."

"This is clearly beyond the scope and mandate of the IAEA. This debate has been forced upon the economic committee year after year and most of the member states have understood this after voting down these proposals three times in recent years," he continued.

Snir spoke at length regarding the Iran issue, and said that it was the biggest regional threat. "Iran has secretly worked towards a nuclear deal for decades," Snir said. "Iran only came to the table under heavy pressure from international sanctions."

He emphasized that Israel sees great importance in the IAEA's work, and cooperates with the organization on a wide array of topics including nuclear security, general security, emergency response and technological cooperation. According to Snir, Israel has devoted its best qualified experts and has contributed from its vast experience and knowledge to the IAEA member states.

The Israeli representative stated that the Israeli government is set to increase its financial contribution to the organization through the peaceful nuclear program. He revealed that next month, Israel will host of international radiation containment and treatment workshop.

"I want to commend the technical cooperation with the IAEA," he said. "In the last year, Israel has conducted exercises dealing with emergency responses to damaged nuclear reactors."