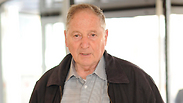 Teacher association chairman Ran Erez.
Christian schools in Israel have been striking since the school year began, in protest of their budgets being slashed by the Ministry of Education, and on Sunday they'll be joined in part by all junior high and high schools in the country.
Middle and High School Teacher's Associations Chairperson Ran Erez announced Thursday that Sunday classes will start at 10am, as a show of solidarity with the country's Christian schools.
33,000 pupils haven't been going to school since September 1.
The Christian schools say that their representatives have had many talks with government and Knesset officials, as well as direct talks with the Ministry of Education, for the past year and a half.
The Ministry of Education said after protests broke that "the educational institutions are budgeted equally, like all other recognized institutes that aren't official in the state of Israel. There was no reduction in the last school year, and there will not be any reduction in this school year.
"The Ministry of Education is holding meetings with representatives of the educational institute, and all alternatives that were suggested in these meetings were done cooperatively and without any compulsion," said the ministry. "The Ministry of Education will continue the joint dialogue."