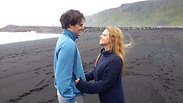 "Don't get wound up about Reykjavik's decision to boycott Israel products, because it is meaningless," said Nimrod Ron, an Israeli musician living in Iceland, regarding the capital's recent decision to boycott Israeli goods. "I have lived in Iceland for three years, and have yet to see even one Israeli product."

According to him, "This decision isn't based on anti-Semitism or even the Muslim community's influence which, numbering around 1,500 members, is very small. The Icelandic people simply feel that Israel is oppressing the Palestinians."

Ron, who lives in a small town near Reykjavík, plays the tuba in Iceland's symphonic orchestra. The small island, with a population of about 330,000, is home to a tiny Israeli population of about 50-100 people. In addition to the Israelis, Iceland is home to about 150 Jews. Most of the Israelis are students or married to Icelandic spouses.

Ron says he wasn't surprised by the decision to boycott Israeli products because the issue was debated beforehand in the public media. "Iceland is a country which values humanitarianism above all else, to the point of naivety," he explained.

"Nothing is done out of economic motivations. They condemned the Russian occupation of Ukraine, and the Russians responded with an ultimatum – retract the condemnation or Russia will stop buying Icelandic products. But the Icelandic government didn't give in, and stopped the large scale export of fish to Russia," he said. "They lost a lot of money as a result, but for them it's a matter of principles."

The Icelandic people have always viewed themselves as protectors of the weak, he says, and many protests were held against Israel during the various military operations in Gaza. "They had a hard time with the perceived lack of proportionality between the sides," he added.

"There is a lively debate here surrounding the situation in Israel, and it has nothing to do with anti-Semitism, but more to do with the fact that there is a side which is perceived to be weaker than the other, and they usually side with the underdog."
The boycott decision wasn't widely publicized, he says. "It held resonance with the media, but besides being a symbolic gesture, it holds no meaning. Iceland doesn't really have any news. The biggest news story amounts to a duck crossing the street and causing traffic."

Ron's spouse, Maayan Yany (27) divides her time between Israel and Iceland, and views the boycott issue a little differently than Nimrod. "What do these people who live next to icebergs have to do with the Israeli-Palestinian conflict? Iceland is a disconnected country which is looking for something interesting to fight over," she said, "I doubt many Icelandic people have visited Israel or even studied the situation in depth."

"This place is hostile," she added. "During 'Operation Protective Edge', 3,000 people lay down on the road and pretended to be dead in protest. I don't rush to mention that I'm Israeli in my day-to-day dealings. When I do mention my background there are mixed reactions," she said.

"A year ago we brought a few Icelanders to Israel so they could experience the country. It was right as the war kicked off, and they have become ambassadors for Israel ever since. But I can't bring all the Icelanders to Israel," Yany concluded.