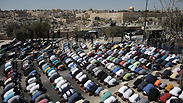 Friday prayers in Jerusalem
One Palestinian was moderately-seriously wounded by gunfire Friday afternoon while an Israel police soldier was moderately wounded by a firebomb and another two were lightly wounded during clashes that erupted in East Jerusalem's Jabel Mukaber neighborhood.

Two Palestinian teens were consequently arrested in Jabel Mukaber, accused of throwing stones at security forces.

The incident came after the relatively peaceful conclusion of Friday prayers on the Temple Mount that Israeli authorities feared would turn violent. Five thousand police officers were deployed in the area and age restrictions were placed on Muslim worshipers entering the mount.

The turmoil in and around Al-Aqsa mosque in the past week, as well as intelligence indicating that Arab youths intend to disturb the peace, led Jerusalem's chief of police, Maj. Gen. Moshe Edri, to order the reinforcement.

Additional pinpoint clashes broke out in the neighborhood of Abu Tor, where masked youths threw rocks at border policeman earlier in the afternoon, as well as the Kalandiya checkpoint, masked youths and police traded volleys of rocks and riot control measures.

Clashes in Shuafat (צילום: חסן שעלאן)

Hamas, for its part, also held its own solidarity rallies throughout the Gaza Strip, with a huge showing at the central gathering in the town of Khan Younis. Protests in support of the "resistance" broke out in neighboring Jordan as well.

A can of paint was also thrown at Jerusalem's light rail on Friday, causing damage but no injuries. The police began searching for the perpetrators.

Public Security Minister Gilad Erdan visited the Western Wall Friday after a security briefing with police officials. "Thousands of police officers have been deployed in Jerusalem since the morning hours in order to guarantee the public's safety," the minister said. "The police presence is felt, and we will do all that is within our power in order to maintain the quiet. The police will use all measures necessary against those who disturb the peace," Erdan said.

The Knesset's Security and Foreign Affairs Committee also held a special meeting Friday, and authorized the military to draft reserves border policemen as a solution to the deteriorating security situation in Jerusalem.

The head of the committee, MK Tzachi Hanegbi (Likud) said, "The border policemen have a rich and successful history in dealing with violent enemy actions. The deployment of border police companies to Jerusalem will help quickly restore order."

Police were put on high alert after a series of violent incidents on Thursday.

In the Palestinian district of Ras al-Amud in East Jerusalem, a bus was pelted with rocks, leading its Arab driver to flee and seek help from a nearby police car.

Another bus driver was lightly wounded in the city on Thursday when stones hit his bus near the Hizma checkpoint. He was treated by a paramedic team and taken to Shaare Zedek Medical Center.

In addition, Molotov cocktails were thrown on an Israel Defense Forces base in Jerusalem on Thursday night. Firefighters managed to extinguish the flames, and a guard tower was slightly damaged. The Molotov cocktails were seemingly thrown from the direction of the East Jerusalem neighborhood of Issawiya.

In response to the uptake in violence in recent days, two cabinet ministers have proposed a bill which allows for the fining of parents of minors convicted of throwing stones or firebombs.

According to the law as it stands today, parents cannot be fined or forced to pay compensation to victims, if their children are convicted and punished for their crime.

Kobi Nachsoni, Yael Friedson, Roi Kais, Roy Yanovsky, Itamar Eichner contributed to this article.