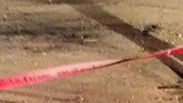 The IAF struck three terror targets in northern Gaza overnight as a direct response to the rocket fire emanating from the territory last night. Two rockets were fired from Gaza, with one being intercepted by the Iron Dome system which was recently deployed to south on the backdrop of tensions over Jerusalem.
One rocket fired from Gaza fell in an open area inside the city of Sderot in a residential area, damaging a bus and a home Friday night before a second round of code red sirens was heard in the south, this time in the city of Ashkelon.
One rocket were shot down over Ashkelon just after 11:30pm by Israel's Iron Dome missile defense system for the first time since Operation Protective Edge in 2014, just three hours after the rocket strike on Sderot.
Iron Dome over Ashkelon
Local residents in Sderot reported hearing the exposion from the rocket before hearing the cooresponding code red sirens that are supposed to give warning of projectile attacks.
A family was inside the home that was damaged, but were unharmed. No injuries were reported, but an unconfirmed number of individuals were said to be suffering from shock at the scene.
The city of Sderot released a statement calling on Prime Minister Benjamin Netanyahu to react swiftly and aggressively.
The rocket strike comes after a day of clashes in Jerusalem, centered around the Temple Mount.
No claim of responsibility for the rocket attacks has yet emerged.
An Iron Dome battery was recently deployed to Ashdod as a precaution preparing for rocket fire from Gaza.
Code red sirens were last heard in the south on September 1 during a failed attempt to launch a rocket from the Gaza Strip.
Israeli aircraft struck Gaza on August 27 in reaction to a rocket that was fired from the strip and landed in an open area in the Eshkol Regional Council.