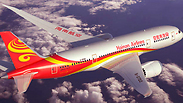 Photo from Hainan's website
Hainan Airlines, the largest private flight company in China, announced Friday morning the establishment of its first direct flights to and from Israel.

The announcement came after a long string of meetings between embassy officials including Israel's Ambassador to China Matan Vilnai who convinced the airline's president of the financial benefits of having flights between the two countries.

The flights are due to begin on April 28 and will take place three times a week on Sundays Tuesdays and Thursdays, the days El Al doesn't fly to Beijing. Hainan's Airbus 330 planes allotted to fly to Israel are both spacious and modern with 37 seats in business class and another 178 in economy.

Flight duration from Tel Aviv to China is nine-and-a-half hours while the return trip is 11 hours.

Prices for the flights have not yet been announced but are expected to be significantly cheaper than El Al's flights to China.

The number of Chinese tourists in Israel has been increasing yearly by dozens of percentage points. Some 34,000 Chinese citizens visited the Jewish State from January-August 2015, marking a 30 percent increase from 2014.

Even during 2014's Operation Protective Edge in Gaza, there was an increase in visitors from China.

"China is the second largest economy in the world and every year, the number of Chinese traveling throughout the world grows," said Vilnai after the announcement. "The State of Israel sees great importance in deepening our relationship with China. The goal is to reach 100,000 tourists from China within two years."

Tourists from China have been making growing contributions to the world economy over the last few years. In 2012 alone, some 83 million Chinese flew abroad, spending some $102 billion. In 2014 those figures rose to 116 million tourists spending $120 billion.