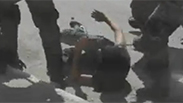 שוטרים פלסטינים מכים קשות נער פלסטיני בית לחם
The talk of the day on the Palestinian social networks is not the recent violence in East Jerusalem, but rather a short YouTube video which was filmed during the clashes which took place on Friday afternoon in Bethlehem, near Rachel's tomb.

Palestinian police can be seen arresting a young Palestinian who was taking part in the clashes, beating him with canes until he fell to the ground.

Other police join in at that point, and at least five of them begin beating the young man vigorously with batons until he becomes seemingly incapacitated, and was dragged away.

The video

The images prompted a media storm among the Palestinians. "Two weeks ago there was a big and very violent fight between families here," a resident of Bethlehem said to ynet. "We didn't see such a dedicated response to end that fight, like the actions we saw yesterday, when they beat the poor young man," the man concluded.

Hamas was quick to use the images to attack the Palestinian security forces, which tried to prevent the youths from clashing with the IDF forces.

The young Palestinian man seen in the video is Mohammed Hamamra (17), a resident of the town of Bet Sahur near Bethlehem. His father is an officer in the Palestinian police.

As a result of the event and the ensuing media storm, a decision was made to hold a "sulcha" (a reconciliation or mediation common in Arab society) between the police and the Hamamra family, but even this did not put an end to the anger caused by the video on the Palestinian street.