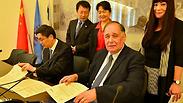 Chinese workers union meeting
Israel plans to bring in 20,000 Chinese construction workers to help build new apartments as part of efforts to lower housing costs, Prime Minister Benjamin Netanyahu said today.

Netanyahu announced the plan at the start of a cabinet meeting, his office said. The Finance Ministry later said the cabinet had approved it.

Attorney General Yehuda Weinstein has opposed the move because the two countries lack a formal agreement related to such cooperation.

The lack of an agreement can lead to immigrant workers paying middlemen hundreds or even thousands of dollars to obtain permits.

Chinese workers are currently brought into Israel under private contracts between Israeli and Chinese companies. The two countries have engaged in negotiations on working conditions, but have not yet reached an accord.

A statement from the Finance Ministry said that due to the urgency of the matter, the workers would be brought without a bilateral agreement, while creating mechanisms to ensure their rights were protected and prevent them from paying middlemen for permits.

Netanyahu said that it was important to move forward despite "side costs," with the cost of living a major issue in Israel.

"In my view, this is a necessary and important step to lower housing prices," Netanyahu said.

Israel's construction sector currently employs 216,000 workers, including 37,000 Palestinians and 6,000 foreigners, with some 3,700 Chinese.

The Finance Ministry said the lack of skilled Israeli and Palestinian construction workers, as well as the instability in employing Palestinians - whose permits can be revoked due to the security situation - have created a shortage of workers.

The Chinese's work pace in building high-rises was 50 percent higher than that of Israelis, Palestinians and others, the Finance Ministry said.

China told Israel that it would not allow migrant builders to work on settlements in the West Bank.

Construction in settlements, where some 400,000 Israelis live, accounts for about three percent of all new construction.