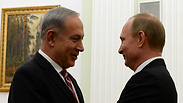 Photo: Kobi Gideon, GPO
Photo: GPO
Prime Minister Benjamin Netanyahu met with Russian President Vladimir Putin on Monday in order to "communicate our policies," and insure that there would be no "misunderstandings" between Israeli and Russian forces, in light of Moscow's recent deployment of aircraft and soldiers into Syria.

Netanyahu told a press conference after the meeting that Israel seeks to foil Iranian attempts to create a base for terror in the Golan Heights, and that his goal was "to prevent misunderstandings between IDF troops and Russian troops". The main result of the meeting, he said, was to create a mechanism to avoid such misunderstandings.

"Our main goal is to defend Syria," Putin replied politely. "With that being said, I understand your concerns and I'm very happy you've come to discuss these issues in detail."

Though it's currently unknown what was said in private between the two leaders, Netanyahu was expected to request that Israel maintain freedom for its air force in the skies above Syria.

The IAF has launched strikes in Syrian territory on several occasions either in retaliation to rocket fire or against weapons being transported to Hezbollah in Lebanon.

Netanyahu and his delegation left for Russia Monday morning and also planned to establishing protocol to prevent identification problems and potential clashes that could occur between Israeli and Russia aircraft.

Russian jets and other military forces recently arrived in Syria in an effort to save President Bashar Assad from defeat at the hands of the Islamic State and other rebels.

During Putin's meeting with Netanyahu, US officials said that Russian drones had begun surveillance missions in Syria.

According to the prime minister's office, Putin would also be presented with intelligence proving Iran's direct involvement against Israel in the Golan Heights and that Hezbollah uses and has access to advanced Russian equipment.

There is currently no Israeli ambassador in Moscow as Dorit Goldner completed her tenure and returned to Israel. Her replacement, Tzvi Hefetz, has already been approved, but will only arrive in Russia in another two months.

Netanyahu's last visit to Russia was in October 2013, and Monday's visit was his first since conflict erupted in Ukraine, marring Russia-US relations.