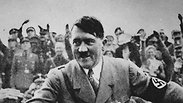 Hitler in 1933
Photo: Getty Images
Adolf Hitler was a hardcore drug user, and the consumption of stimulants like methamphetamine were widespread among civilians and soldiers in Nazi Germany, says a new book by German author Norman Ohler.
Ohler documents with unprecedented detail the massive consumption of drugs in wartime Germany by civilians, troops, the elites, and the führer himself.
Interview with author Norman Ohler (צילום: ניצן דרור ואבי חי )
"I researched the abuse of drugs in the times of Nazi Germany and found that between 1937 and 1945, there was a heavy abuse of drugs all across the board in Germany: If it's the civil population, or the army, or the leading circle around Hitler, they were all into drugs," Ohler told Ynet in an interview.
Ohler explained that it was Hitler's personal physician, Theodor Morrell, who supplied drugs to the Nazi leader, often injecting them intravenously. Ohler used Morrell's records, which are in the official German state archive, as one historical source.
The records included a log of 885 days in which Hitler received 1,100 injections. When the campaign against the Soviets began to falter, he began using harder drugs, like steroids and hormones. During the autumn of 1944, when defeat was virtually assured, Hitler began receiving injections of a heroin-like opiate.
In 1936, a drug named Pervitin, which included methamphetamine, was released as a legal medication that was common in pharmacies throughout Germany.
Prewar Germany was, Ohler said, fixated on work and being active, making the drug popular to the civilian population.
After the drug was already common, German soldiers were given massive quantities of methamphetamines before the invasion of France in 1940, thus increasing the crucial speed of the famous blitzkrieg tactic and providing an advantage on the battlefield.
Ohler emphasized, however, that the large-scale consumption of drugs could never excuse or mitigate any of the Nazis' enormous crimes, which were carefully, coldly planned.