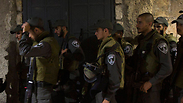 Thousands of police forces were deployed to high-tension areas Tuesday morning and troops were placed on high alert in preparation for Yom Kippur as Defense Minister Moshe Ya'alon ordered the complete closure of the West Bank and Gaza to begin at noon until midnight Wednesday.

Fears of security incidents in the West Bank and East Jerusalem for Yom Kippur already seemed to be legitimate overnight Monday when a Palestinian died just south of Hebron after security forces entered the area in response to reports of a stone barrier that had been erected in the town of Beit Hagai. An explosion was heard and troops found the body of the Palestinian nearby.

Current assessments suggest that the 23-year-old individual was trying to throw a grenade at the soldiers when it exploded in his hands.

Violence continued into Tuesday morning when a woman attempted to stab a IDF soldier at a checkpoint in Hebron.

The female was shot in the leg and seriously wounded before being evacuated by the Red Crescent to a nearby medical facility. The soldier was unharmed.

The incidents followed over a week of increased tensions in the West Bank and East Jerusalem - a week marred by riots and attacks, mainly by use of stones and firebombs.

In response to the deteriorating security situation, Prime Minister Benjamin Netanyahu was granted legal permission by Attorney General Yehuda Weinstein to arm snipers with the Ruger Precision Rifle and to fire at individuals endangering public safety with intention to wound them.

After a situation assessment, police decided to restrict entrance to the Temple Mount on Tuesday to Palestinians over the age of 40 in an effort to decrease the likelihood of violence and protect the thousands of Jews expected to pray at the Western Wall for Yom Kippur.

Meanwhile, volunteers of the Israeli Civil Guard, in coordination with police, will provide armed security at local Synagogues throughout the country.

As on every Yom Kippur, roadblocks were erected to prevent vehicular traffic from East Jerusalem into the west, to prevent the likelihood of confrontation.

The Yom Kippur fast will begin in Jerusalem at 6:01pm, in Tel Aviv at 6:16pm, in Haifa at 6:07pm and in Be'er Sheva at 6:18pm. The fast ends on Wednesday in Jerusalem at 7:11pm, in Tel Aviv at 7:13, in Haifa at 7:13 and in Be'er Sheva at 7:13pm.

Public transit throughout the country, including buses and trains, will stop between 1:30pm to 3pm and begin again on Wednesday evening after 8:30pm.

Roi Yanovsky, Elisha Ben Kimon, Omri Ephraim, Elior Levy, Itay Blumenthal, Ra'anan Ben Tzur, Noam 'Dabul' Dvir and Noa Haslobitzer contributed to this report.