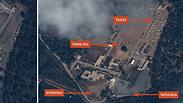 Satellite photo
Photo: AFP / CNES 2015 DISTRIBUTION AIRBUS DS / 2015
Satellite photos taken in mid-September and obtained by IHS Jane's show Russian forces developing two additional military facilities near Syria's Mediterranean coast, Rob Munks, editor of IHS Jane's Intelligence Review, said on Tuesday

Munks said the previously undisclosed work was taking place at a weapons storage facility and a military base north of Latakiya, suggesting Russia is preparing to place troops at both locations.

Russia has been dramatically increasing its forces at an air base south of Latakiya, a stronghold of Syrian President Bashar Assad, including positioning combat planes and helicopters as well as tanks and accommodation blocks.

Washington has been wary of Moscow's support for Assad and US officials have said such deepening ties are troubling even as the United States and Russia have their eye on fighting the Islamic State militant group.

Jane's, a defense intelligence provider, acquired the images from a commercial satellite division of Airbus Group SE, according to the Wall Street Journal, which first reported on the imagery.

Munks told Reuters one of the sites was located about 4 miles (7 km) north of Latakiya and the second was 2 miles (3 km) west of that. The images showed construction of new buildings and grading of terrain, as well as the presence of new tents typically used by Russian military units.

One of the facilities is adjacent to a surface-to-air missile site, Munks added.

The US military has assessed that the type of Russian aircraft in Syria is consistent with protecting their own forces, US Secretary of State John Kerry said on Tuesday and called on Russia and Iran to be helpful in ending the four-year conflict.

"For the moment it is the judgment of our military and experts that the level and type represents basically force protection," Kerry told reporters.

However, depending on Russia's long-term decisions, the presence of Russian aircraft in Syria could raise some questions about Moscow's intentions, he added.

Kerry said while both the United States and Russia want the Islamic State defeated in Syria, Washington believed Moscow's support for Assad was attracting foreign fighters who want Assad to go.

Still, Kerry repeated that Russia's intentions in Syria were unclear and called on both Moscow and Tehran to help with diplomatic efforts to end the crisis.

"If (Russia is) there to shore up Assad and to certainly provide Assad with the continued sense he doesn't have to negotiate, then I think it's a problem for Syria, and it's a problem for everybody who wants to bring an end to this conflict, which has gone on for too long," he added.