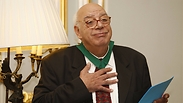 Ali Salem, the Egyptian writer, playwright and satirist who aroused much controversy due to his sympathetic stance towards Israel, died of cancer at 79 on Tuesday.

"The first of the normalizers with Israel passed away," was how many Egyptian papers reported his death.

Even after his death, he remains controversial in Egypt. Some preferred to remember him for his famous comic play "The School of Troublemakers," while others concentrated on his views on Israel.

Salem's last interview was given to Egyptian media personality, Jaber al-Karmuti, during which he repeated his stance on Israel.

"Israel is not an enemy state and its interest is that Egypt be strong and not like other countries like Syria which are controlled by gangs", Salem explained in that interview.

"Israel does not pose any threat to Egypt's national security," he added. "I hope Egypt's political leadership will not be ashamed of the peace the late Egyptian President Anwar Sadat established with Israel."

Salem, unlike many other intellectuals in Egypt, had already expressed his support for Sadat's peace initiative in the 1970s, despite the fact that his brother was killed in the 1948 war. His first controversial visit to Israel was in 1994, 17 years after the signing of the Camp David agreement. Following that visit, which he went on without telling his three daughters, he wrote the book "My Drive to Israel" which was translated, among other languages, into Hebrew and English, and described his impressions and his meetings with Israelis.

Since that visit, which aroused great protest in Egypt and the Arab world - especially among the cultural elite - Salem faced serious criticism and attempts to expel him to the Egyptian Writers' Syndicate and the Egyptian Association of Writers.

But Salem stuck to his guns and did not change his stance toward Israel. In 2005, he was to receive an honorary PhD degree from Ben-Gurion University in Be'er Sheva for his work, but Egyptian authorities did not give him permission to go out and accept the prize. Two months earlier he had visited Israel and met, among others, students at the Hebrew University.

Naguib Sawiris, an Egyptian Coptic businessman, eulogized Salem on his Twitter account and hinted at his disappointment that Salem did not get enough respect: "Ali Salem, may Allah have mercy on him. In my last meeting with him he told me that they needed to make a prize for a writer who did not get any prize throughout his life ".

Other tweets were less endearing. "I'm not happy when someone dies, but I am happy at the passing of a soldier who fought for Israel on Egyptian land," tweeted Egyptian journalist Wael al-Kandil, known for his fierce criticism of the current Egyptian regime.

The poet Ahmed Abdel Muti Hijazi commented: "I do not doubt for a moment that when he decided to visit Israel Salem was honest with himself. I would have preferred if he had discussed it with Egyptian intellectuals before taking his trip to Israel." According to him, Salem expressed his desire for peace theatrically: "I do not blame him, but I disagree with him; Israel is still an enemy and this will last because it can't stay within the Arab homeland."

Salem, born in 1936 in Damietta province northeast of Cairo, was famous for his comic plays and his humor which is so characteristic of the Egyptian people. In 1963 he wrote his first play, "The People in the Eighth Heaven," but he became famous in 1971 with "The School of Troublemakers" which starred one of the great Egyptian actors, Adel Imam. The play chronicles how a philosophy teacher comes to class of unruly children to restore order in his own unique way. Overall Salem wrote 15 books and 27 plays.

While Salem is considered unusual in Egypt he is not a lone voice. Only a year ago a similar voice was silenced, with the death of journalist Hussein Sarraj, deputy editor of the weekly "October," who visited Israel many times and held similar views to that of Salem. "You're a nation like every other nation," said Sarraj to Ynet on the occasion of the 40th anniversary of the Yom Kippur War.