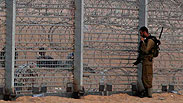 The border fence (Photo: Archive)
Twenty-nine people managed to illegally cross Israel's border with Egypt using a ladder during the Yom Kippur holiday.

The incident marks the largest group to illegally enter Israel on a single day in the past year and a half.

The migrants, mostly from Sudan, were caught and transferred to the Saharonim detention facility – where they will be held for the next three months.

Over 140 people have managed to make their way past the fence since the beginning of the year, all using ladders.

The group includes persons who have previously entered Israel in the past. In recent weeks the Administration of Border Crossings, Population and Immigration and the Interior Ministry have warned that the fence was not enough to deter migrants, and that legal reform would be needed to maintain true deterrence.

Justice Minister Ayelet Shaked said that "the existing law does not deter, and is not effective."

Shaked went on to say that "we are in the midst of a new wave of infiltration. The only preventive measure we have is to remove the migrants' motivation. As a result of the cheapening of the low, the only real option that remains in the fight for deterrence is the threat of an immediate transfer to a third country."

"The authorization process for this measure is currently held up in the courts, and I hope it will be resolved soon," Shaked concluded.

Immigration officials caught nine migrants who crossed the Egyptian border during the last week of the month of August, in addition to 19 migrants who crossed the border days earlier.

Political officials fear that that if the aforementioned measure is not authorized soon, there will be a new wave of illegal migration to Israel in the near future.

According to the experts on the matter, migrants and smugglers are finding new and unique ways to cross the fence, and as such the number of migrants has increased.