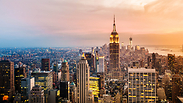 Manhattan
Photo: Shutterstock
Delta adds four weekly flights between Tel Aviv and New York
Responding to demand following the termination of American Airlines flights to Israel, the Atlanta-based airline added four weekly flights to its New York-Tel Aviv line; airline will now operate a total of 11 flights a week between New York and Tel Aviv.
Delta Airlines will operate another four weekly flights between Tel Aviv and New York, the company announced on Thursday.

The extra flights will begin in summer 2016, bringing Delta's total number of weekly flights on this route to 11.

The move follows American Airlines' decision to stop flying to Israel from the beginning of January next year, thereby creating demand for extra flights to North America.

The four extra flights will operate on Tuesday, Wednesday, Friday and Saturday during daytime hours. They will depart from Tel Aviv at 11:50am and land at JFK Airport at 4:50pm (local time).

The new flights will complement those currently operating at night. Delta operates connecting flights to more than 60 destinations across the United States including Los Angeles, Chicago, Orlando and San Francisco.

"In response to our customers' demands we decided to expand our direct service on this line," said Nat Pieper, Delta's Senior Vice President for Europe, the Middle East and North Africa.

The Tel Aviv-New York line is one of the company's most important transatlantic flights, he added.