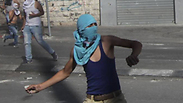 Jerusalem
Photo: Gil Yohanan
The Security Cabinet on Thursday evening unanimously approved a series of measures submitted by Prime Minister Benjamin Netanyahu aimed at cracking down on rock-throwing.
Among the new measures passed was a change in the circumstances in which a police officer can open fire. Until now, opening fire could occur only when the officer's life was in danger. Now, however, police will be permitted to open fire if any lives are in danger.
Public Security Minister Gilad Erdan agreed with the stance taken by the police, which stated that it is impossible to tell whether stone-throwers are minors or adults, essentially meaning that police can also shoot minors who are throwing stones or Molotov cocktails.
The ministers also approved the use of Ruger rifle to disperse riots, which is already permitted in the West Bank.
The Cabinet also approved mandatory minimum sentences of four years for adults who throw firebombs or rocks. The four-year sentence is one-fifth of the maximum sentence of 20 years. The minimum sentence had been temporarily set at three years.
Additionally, a decision was made to increase fines on minors and their parents for throwing rocks, Molotov cocktails, or firecrackers.
This includes imprisonment and fines on minors aged 14-18 and their parents and withdrawal of support payments for imprisoned minors.
The prime minister also noted after the meeting that "the possibility of imposing minimum fines on the parents of minors aged 12-14 and the imposition of one year bonds on the parents of minors under age 12, will be legally evaluated."
Stone throwing, which has seen a sharp uptick in recent weeks in Jerusalem, has also become common in the Negev.
Since the beginning of 2014, there have been 130 recorded incidents of stone throwing in the southern region. Wednesday saw police arresting 15 local residents who were suspected of throwing rocks at a police facility in Tel Sheva.