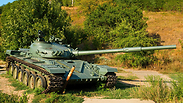 Hezbollah may have recently declared an end to offensive combat in Syria on behalf of government forces fighting off rebel groups, but President Bashar Assad hasn't forgot to thank the Lebanese group for years of support.

That "thank you" is set to arrive in the form of 75 soviet-era tanks, the T-55 and T-72, to help Hezbollah create their own armored division for use in their fight against al-Qaeda affiliated militants, according a report Saturday in Kuwaiti newspaper Al Rai.

The report also said that 100 officers and regulars from Iran's Special Forces that specialize in urban warfare arrived in Damascus in cooperation and in accordance with an agreement between Russia and Hezbollah.

Meanwhile, French media cited military sources claiming 15 cargo planes carrying equipment and personnel have landed over the last two weeks at a Russian forward operating base recently erected near Latakia. According to the source, fighter jets accompanied the cargo planes during landing and takeoff.

The Guardian also reported on Syria Saturday, quoting a report from the Royal United Services research institute which stated that Russia's presence in Syria is likely to aid the forces of the Islamic State.

According to the report, Russia's forces are currently positioned to take on smaller rebel groups like Nusra Front which are threatening the Assad regime, but also actively fighting Islamic State.