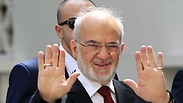 Iraqi Foreign Affairs Minister Ibrahim al-Jaafari
Even as US officials face new challenges posed by a quickly changing political landscape in the Middle East, Iraq claimed Saturday to have entered into intelligence and security cooperation with Russia, Iran and Syria, according to an Al Jazeera report.

The agreement was revealed by the Iraqi military's joint operations command who said the cooperation had come "with increased Russian concern about the presence of thousands of terrorists from Russia undertaking criminal acts with ISIS."

Russia has increased its military presence in Syria in recent weeks and pushed for Damascus to be involved in resolving the crisis, a demand which is frowned upon by the Americans.

The new development also shows just how much Iran has increased its leverage in Iraq just four years after the US withdrawal.

According to the report, Russian news agency Interfax quoted a military diplomatic source in Moscow as saying that the Baghdad coordination centre would be led on a rotating basis by officers of the four countries, starting with Iraq.

Iraqi officials rejected claims of the above-mentioned coordination center on Friday.

CNN also reported that the Iraqi army confirmed an agreement was reached with Russia, Iran and Syria regarding sharing intelligence information against ISIS.

Iraqi Foreign Minister Ibrahim al-Jaafari denied in New York on Friday that Iraq has received help from Russia advisers. He did call for the US-led coalition to escalate its attacks on ISIS.

According to Western officials, US Secretary of State John Kerry is trying to initiate a new attempt to find a political solution to the Syrian crisis at the UN this week.

The Al Jazeera report cites a Russian foreign ministry official who told Interfax on Friday that Moscow could "theoretically" join the US-led coalition if Damascus were included in efforts to fight ISIS and any international effort in Syria had a UN mandate.