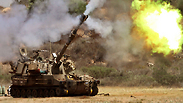 IDF artillery fire (Photo: AFP)
Photo: AFP
An Israel Defense Forces spokesman confirmed that the IDF had conducted two artillery strikes on Syrian positions on the outskirts of Quneitra following earlier rocket strike in the Golan on Sunday night.
The spokesman had said that the IDF "viewed the Syrian army as responsible for any fire emanating within its territory, and that the IDF will not allow any attempts to harm Israel's sovereignty or citizens."
The strikes came in response to a rocket which landed in the Israeli Golan earlier on Sunday. The rocket was the second Syrian rocket to land in Israeli territory in as many days, and no injuries or damage were reported in either incident.
Lebanese media outlet El Nashra reported that three missiles were launched towards Syrian outposts near Quneitra, which belong to the Syrian Army's 90th Brigade. The report continued to mention that Israeli aircraft were currently flying above the area.
The Golan has received plenty of what is termed "spillover" in recent years, typically errant projectiles which land in Israeli territory as a result of the in fighting on the Syrian side of the border.
Defense Minister Moshe Ya'alon reacted to the strikes saying, "The projectiles which landed in Israeli territory both yesterday and today were fired from Syrian artillery pieces which are currently involved in the fighting there, are a challenge to our sovereignty, and a crossing of our 'red lines.'"
Ya'alon continued to say that. "The state of Israel does not intent to ignore these cases, and as such the IDF struck two Syrian artillery pieces tonight."
"We view the Syrian regime and its army as responsible for happenings in its territory, and we will not be patient in these types of cases, and we will act in order to prevent these attempts to harm Israel's security," he concluded.
The Israel Air Force launched air strikes in Syria last month, targeting a vehicle carry 4-5 men who were responsible for earlier rocket fire on the Golan Heights.
The four projectiles launched near the end of last month had landed in open areas and there were no reports of casualties or major damage. One rocket did land near a town, causing a fire.
The fires started by last month's rocket strikes (צילום: אביהו שפירא, אור שמש)
The IDF said it believed the firing was deliberate and that it was considering retaliatory fire in that case as well. It also said the firing originated in Syria's Quneitra area, which is under Syrian President Bashar Assad's control and in which Hezbollah operatives have free rein, according to reports.
However, according to the IDF at the time, Islamic Jihad was responsible for the fire, using Iranian funding and direction. The IDF also said it saw Syria as responsible for the fire. Islamic Jihad spokesman Daud Shihab strongly denied that the organization was responsible.