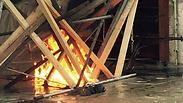 Fire at the Temple Mount, Monday
Photo: Israel Police
Clashes between police and Palestinians broke out at the Temple Mount on Monday morning, the second day in a row.

Police said a group of rioters barricaded itself inside al-Aqsa Mosque and placed obstacles to block entry.

Following attempts at negotiations, police entered the Temple Mount area at 6:45am. Masked Palestinians who had been throwing stones and bottles fled into the mosque, from which they fired firecrackers, Molotov cocktails and bottles containing an unidentified substances. The area was soon opened to visitors at the regular scheduled time.

During the violent confrontation, police used a mobile barrier to block the stones and firebombs. While the rioters continued to throw these, the barrier was mostly successful in protecting the police.


Jerusalem Police said it had conducted "lengthy dialogue with managers of the Waqf in order to allow them to dismantle the fortifications and remove the rioters who barricaded themselves in the mosque overnight with the intention of disturbing the peace, clashing with police and impairing routine visits and prayer at the Mount."

The police added that its alertness level in Jerusalem was high, particularly in the area surrounding the Temple Mount.

Visits by Jews at the Temple Mount were stopped on Sunday and age restrictions on Muslim men entering the compound lifted for the Muslim holiday of Eid al-Adha, but a ban on under-50s was re-imposed as Sukkot started on Monday.

On Sunday, Israeli police and border patrol troops employed riot control measures on the Temple Mount where masked Palestinian youth threw rocks and shot firecrackers at security forces.