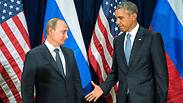 Obama and Putin in New York. (Photo: EPA)
NEW YORK - Russia "must respect Israeli interests" in Syria, but is also "worried" regarding Israeli strikes in Syrian territory, said Russian President Vladimir Putin early Tuesday morning at a press debrief.

Putin's comments came just two days after Israel fired artillery at Syrian government forces in retaliation to a rocket that landed in the Golan Heights in an apparent spillover from fighting across the border.

The incident was the first Israeli strike in Syria since Russian forces entered Syria and began constructing a forward operating base near Latakia meant to defend the embattled regime of President Bashar Assad.

Prime Minister Benjamin Netanyahu flew to Moscow last week to meet with Putin and said afterwards that the two had reached an agreement to prevent unwanted clashes or confusion between Russian and Israeli forces. Reports prior to the meeting said that Netanyahu would request that Israel maintain the freedom to strike in Syria at targets considered to be a security risk.

On Tuesday, Putin said that the agreement would be realized through cooperation between the countries' military leadership and that no binational body would be created to handle the security arrangement.

Putin's comments came after his first meeting with US President Barack Obama in over a year, during which the leaders reportedly agreed to direct their militaries to hold talks to avoid conflict over potential operations in Syria, according to a US official.

The two men also agreed to explore options for a political solution in Syria, but disagreed on the future role of Syria's Assad.

Associated Press contributed to this report.