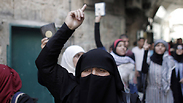 Women protest Jewish visits to the Temple Mount compound
Photo: AP
Police on Tuesday arrested a number of Palestinians suspected of throwing stones, rioting, and attacking Jews, following two consecutive days of violent confrontations on the Temple Mount in Jerusalem.

The Muslim holiday of Eid el-Adha was over by Tuesday, but for Jews it was Chol HaMoed, the intermediate days of Sukkot.

Police arrested three minors for throwing stones, seven residents of East Jerusalem who participated in Temple Mount disturbances on Monday, and three women suspected of attacking Jews in Jerusalem's Old City.

Rioters barricaded themselves inside al-Aqsa Mosque at the compound overnight Sunday, leading to the decision to limit access to men above the age of 50. Jews were permitted to visit in groups of 20, one of which encountered Member of Knesset Jamal Zahalka (the Joint List) shouting: "Insane criminals, you are all Kahanists, fascists, and racists."

Two women were arrested following complaints by Jewish residents of Jerusalem who said they were attacked on Monday in the Old City on their way to the Western Wall. The women have been banned from the Temple Mount because of participation in disturbances, and have been taken in for questioning.

Overnight Monday, seven suspects – three residents of Jabel Mukaber and four residents of the Old City – were arrested for involvement in disturbances at the Temple Mount.

Meanwhile, rioting occurred in the Jerusalem's Issawiya neighborhood, where Molotov cocktails were thrown at border police. Some teenagers with backpacks threw stones at border guards on Tuesday morning. A 14-year-old Palestinian was arrested following a chase.

Two other minors were arrested for throwing stones during the day, including a 15-year-old who was found to be carrying brass knuckles and gas canisters.