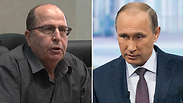 נשיא רוסיה ולדימיר פוטין שר הביטחון משה בוגי יעלון
Israel is not coordinating our Syria response with Russia, Defense Minister Moshe Ya'alon said Tuesday in the wake of Russian President Vladimir Putin's statements that he was "worried" about recent Israeli strikes in Syria.
"The prime minister made it clear to President Putin that we are not getting involved in the debate of who will be in power, Assad or someone else," Ya'alon said during a tour of Gaza border communities.
Earlier this month, Putin and Prime Minister Benjamin Netanyahu met and declared the need for communication to avoid military "misunderstandings" near the Syrian-Israeli border.
"We have our interests, and when they are threatened we act and will continue to act," continued Ya'alon. "This was made clear to the Russian president, and this is the result: During the holiday (Sukkot) we acted, and will to continue to act, against any violation of or damage to the interests I mentioned."
"We will hit anyone who tries to violate our sovereignty, anyone who tries to transfer advanced weapons systems to terror organizations, especially Hezbollah, and anyone who tries to transfer chemical weapons to terror organizations and Hezbollah," he said.
"There's been unrest in Syria, at our doorstep, for more than four years," he said, "yet we've managed to defend our borders. We will not tolerate any violation of our sovereignty. Once it happens, we will react."
"There are other developments in Syria," he continued, "like the Russian and Iranian presence. But that's far away from us, in the north of the country. But we will not hesitate to take proactive measures to defend our interests, and the prime minister made it clear to President Putin."
Ya'alon also addressed the ongoing violence in Jerusalem.
"Sadly, this is the work of some provocateurs, some of whom are Israeli Arabs – politicians as well as the Islamic Movement – who try to make political capital out of the violence in and around Temple Mount," he said.
"And the Palestinian Authority, that has for years fanned the flames and stirred emotions about Temple Mount, doesn't stand idle either. We, however, have adhered very strictly to the status quo, for years."
More than a year after the end of Operation Protective Edge, Ya'alon visited the border area around the Gaza strip together with Tamir Idan, the head of the local Sdot Negev Regional Council.
"Local representatives tell me that there's a growing demand to live in the area," Ya'alon said. "Hamas, who rules the Gaza Strip, is deterred and faces domestic challenges. Radical groups that are affiliated with ISIS sometimes fire rockets at Israel to embarrass Hamas."
"We employ carrots as well as sticks," he added. "We allow imports into the Strip to get the economy going – we don't want the locals to live in poverty, as long as it doesn't jeopardize our security. I hope the relative calm will persist in the foreseeable future."
Several hours later, a rocket was fired from Gaza and was intercepted by Iron Dome above the city of Ashdod, the third in just under two weeks.