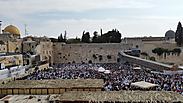 The Western Wall, Wednesday
Photo: Eli Mandelbaum
About 50,000 people attended the biennial priestly blessing at Jerusalem's Western Wall on Wednesday, despite mounting tensions in the Old City over the past few weeks.
The blessing, Birkat HaCohanim in Hebrew, takes place during Sukkot and Passover holidays, on one of the days of Chol Hamoed.
For the last 45 years, since the War of Attrition, it has been a custom to organize a mass gathering of priests on one of the intermediate days of Passover and Sukkot, to bless the people at the Western Wall, as it is believed that such a prayer is more powerful.
Twice a year tens of thousands of people - Haredim, religious, traditional, secular and non-Jewish tourists – come to the holy site to be among those blessed.
The event is regularly attended by Israel's chief rabbis, Yitzhak Yosef and David Lau and Shmuel Rabinovitch, the rabbi of the Western Wall and the Holy Sites of Israel. At the end of the ceremony the worshipers can pass before them to bless and be blessed.
Jerusalem Police deployed thousands of troops in and around the Old City in a bid to ensure the safety of the worshipers and prevent clashes with Palestinian rioters. Police said they would show zero tolerance for any attempt to disturb the peace.
Tuesday was not a quiet day in Jerusalem as police arrested Palestinians suspected of throwing stones, disrupting order and attacking Jews. Police arrested three minors for stone throwing, seven residents of East Jerusalem who participated in disrupting order on the Temple Mount, and three women for allegedly attacking Jews in the Old City.