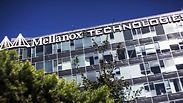 Mellanox (Photo: Reuters)
From medical ingenuity to hi-tech inventions, two Israeli companies closed large deals on Wednesday, postioning themselves as industry pillars in the future.
Israel-based chip designer Mellanox Technologies Ltd made the bigger of the two deals, with its acquisition of network communications chip maker EZchip Semiconductor Ltd for $811 million as it expands its product portfolio for high-performance computing.
The offer price of $25.50 per share represents a premium of 16 percent to EZchip's closing price on Tuesday.
Mellanox said the acquisition pursues its strategy to become the leading supplier of interconnect solutions for software-defined data centres.
Mellanox, with a market value of $1.85 billion, makes InfiniBand products that enables databases, servers and computers to communicate. By buying EZchip the company adds Ethernet network processors to the list.
"The new and emerging Web 2.0 and cloud applications that influence our day-to-day lives depend on fast data movement and processing," Mellanox Chief Executive Eyal Waldman said.
"EZchip's processing solutions allow users to process and analyze ... data both within and outside the data center."
The deal, which has been approved by the boards of both companies, is expected to close in the first quarter of 2016 and be immediately accretive to adjusted earnings. The combined businesses have 2,400 employees, and revenue of $668 million for the year ended June 30, 2015.
EZchip's shares had been halted for trade in Tel Aviv all day pending what it said would be a significant announcement. This followed a report in Israel's Calcalist newspaper that Mellanox was in talks to buy EZchip.
Mellanox will fund the transaction with cash on hand and $300 million in fully-committed debt financing.
Feel the Burn
Meanwhile, Israel-based MediWound recently signed a five-year, $112 million contract with the US authority that handles public health medical emergencies to further develop and buy the company's drug treatment for severe burns.
Investment group Clal Biotechnology, which has a 45 percent stake in MediWound, said in a statement that the deal with the Biomedical Advanced Research and Development Authority would raise preparedness for mass-casualty incidents.
The US body would also help MediWound get approval for its drug NexoBrid, a topical treatment that removes damaged tissue, from the Food and Drug Administration, Clal said.
Clal's shares were up 18.6 percent in Tel Aviv in midday trading.