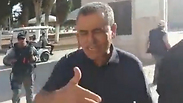 Stil from video
Photo: Avichai Menahem
Member of Knesset Jamal Zahalka (the Joint List) on Wednesday received a summons to be investigated by police on Sunday after he confronted police and a group of Jews at the Temple Mount, an incident captured on video.
Police confirmed that he had been summoned, but refused to detail whether it was related to the Temple Mount incident, which occurred on Tuesday.
צילום: אביחי מנחם, חוזרים להר
Zahalka confronted police and a group of Jewish activists near al-Aqsa Mosque. The MK was documented shouting: "Insane criminals, you are all Kahanists, fascists, racists! Get out of here! You are hurting Muslims!"
To a police officer, Zahalka said: "Why are you letting them in? Shame on you. Only to hurt Muslims' feelings? This is not yours. Get out of here. Go home. You're not wanted."
The head of the northern branch of the Islamic Movement, Sheikh Raed Salah, expressed support for Zahalka. "It is our duty to thank all the heroes who fight in the name of the entire Muslim people and the Arab and Palestinian people for the sake of al-Aqsa Mosque," said Salah.
Throughout the Jewish High Holy Days, clashes have erupted between security forces and rioters protesting the restrictions imposed by Israel at the Temple Mount compound – especially the age of worshipers. Some groups of Palestinians have barricaded themselves inside al-Aqsa overnight and placed obstacles to prevent the doors from being closed, then thrown stones, Molotov cocktails, and firecrackers.
MK Zahalka claimed the police leaked the fact that he'd been summoned for questioning before even he knew about it. He said he wasn't even told what the purpose of the questioning was, meaning it was a political interrogation. "The police force serves as a political police that is riding the wave of incitement against me led by Lieberman, Regev, Shmuli, Barko, Ariel, Edelestein and others," he said. "The police know I have received hundreds of threats and never lifted a finger. In contrast, it rushed to call me for investigation although it knows there is no reason for it."
Zahalka added that he did not say anything on Tuesday that he has not already said multiple times in the Knesset.