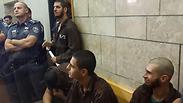 The Islamic State may have finally crossed Israel's borders, according to an indictment presented to Nazareth's District Court Thursday morning accusing seven Israeli Arabs of planning attacks in Israel on behalf of the organization, which is also known as ISIS.

According to the Shin Bet, the accused "created an Islamic State cell with the intention of carrying out terror attacks."

Some of the suspects were said to have been in contact with several Israelis who joined ISIS in Syria. The former residents of Yafa an-Naseriyye in the Lower Galilee region apparently recruited the seven into ISIS and helped them plot their attacks.

A portion of the defendants allegedly trained in the woods near Yafa an-Naseriyye in preparation for the planned attacks.

Three of the accused, Ahmed Mahagna (20) from Yafa an-Naseriyye, Mohammad Sharif (22) from Nazereth and Mohammad Ghazali (23), were charged with contacting a foreign agent and an illegal organization while planning to attack Israeli military targets - specifically, to open fire at a police vehicle and an IDF base.

An illegal weapon found in their possession was bought in Fureidis, a town just south of Haifa.

Ibrahim Aljawabra (35) and his brother Ali (32) from Fureidis, were accused of selling weapons and committing additional criminal offenses. Baha Naaran (22) from Yafa an-Naseriyye was charged with possession of a weapon and involvement in criminal activity.

The seventh suspect, Ahmed Ahmed, who is already in jail for his involvement in the murder of taxi driver Yifim Weinstein in 2009, was accused by prosecutors of planning the attacks with the seven by telephone.

The Shin Bet claimed that the accused confessed during interrogation to trying to acquire weapons and training to use them, as well as collecting intelligence on an IDF base and police forces in order to carry out attacks in the name of the Islamic State.

Investigations revealed many files and photos on Sharif's phone connected to the Islamic State. A video also surfaced in which Sharif explained how to deal with those who oppose the Islamic faith by cutting their throats.

Ghazali's father also attended the indictment hearing Thursday and vehemently denied his son's involvement with or connection to ISIS.

"It's all lies," he said. "We live here in this country and respect all its people - Jews and Arabs. No one in my family has ever harmed anyone else or the security of the state."