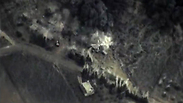 תמונות אוויר תקיפה של כוחות רוסיה ב סוריה
Hundreds of Iranian troops have arrived in Syria in the last 10 days and will soon join government forces and their Lebanese Hezbollah allies in a major ground offensive backed by Russian air strikes, two Lebanese sources told Reuters on Thursday.

The two sources said the operation would be aimed at recapturing territory lost by President Bashar Assad's government to rebels.

Meanwhile, Russian fighter planes bombed rebel positions in Syria again Thursday, as well as rural areas near the northwest city of Jisr al-Shugur, according to Lebanese network Al Mayadeen.

Jisr al-Shugur is controlled by a coalition of insurgent groups, including Nusra Front, an al-Qaeda affiliate.

Russian warplanes carried out at least 30 air strikes against the Army of Conquest, as the rebel coalition is called, according to the report.

Russian attacks in Syria (צילום: רויטרס)

Al-Jazeera reported that warplanes, probably Russian, attacked rebel positions in the city of al-Latamna on the outskirts of Hama, and other reports claimed that Russia also attacked the city of Talbiseh near Homs, a region that was attacked Wednesday.

Thursday, pictures were posted online of alleged Russian attacks against rebel positions near the Syrian village of Kfar Nebel near Idlib. A Syrian army source said Russian military support for the Assad regime represents a major change in the direction of the war.
Russia rejects criticism: "We're attacking ISIS"
The Kremlin's spokesman said that Russian attacks in Syria were financed solely by Russia and not by the Assad regime. He added that it was too early to assess the effectiveness of the attacks.
In any case, he said, the mechanism for coordinating air strikes in Syria with other countries - which presumably includes the United States and Israel - is working. "The Russian attacks were intended to hit a list of known terrorist organization, with the agreement of the Syrian army," he said.
US Secretary of State John Kerry said the US was prepared to accept Putin's military operations in Syria as long as it is directed specifically to ISIS and al-Qaeda affiliates. He also said at the UN Security Council that the US would be very concerned if Russia attacked other organizations.
On Thursday, Senator John McCain stated that Russian strikes had targeted the US-backed Free Syrian Army, not ISIS.
Russia said Thursday that it had launched eight air strikes with Sukhoi warplanes overnight, hitting four Islamic State targets. However, according to Reuters, the areas where it said the strikes took place are not held by Islamic State.
Russia has rejected the criticisms directed against it and claims that its fighters are hitting the same ISIS terrorist targets as the US and its allies. Moscow called the accusations against it a "war of disinformation".
Alexander Orlov, Russia's ambassador to France, said the Russian military intervention in Syria began a year after the United States and its allies launched an attack against ISIS and failed to defeat the terrorist organization.
White House spokesman Josh Ernest, insisted that "Russia will not succeed at imposing a military solution any more than the United States did in Iraq a decade ago, and certainly not more than Russia did in Afghanistan three decades ago."
Ernst said that the growing military presence of Russia in Syria shows how much it is worried about losing its influence on one its "clients" in the Middle East.
Iran's Foreign Ministry said the Islamic Republic unreservedly supports the Russian air assaults against "terrorist groups" in Syria. "The Islamic Republic of Iran considers Russia's military actions against armed terrorist groups a step toward fighting terrorism and towards solving the current crisis in Syria," the statement issued by Tehran noted.
Reuters contributed to this report.