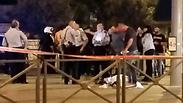 A terrorist stabbed a 15-year-old overnight Saturday in Jerusalem, moderately wounding the teenager. The attacker fled and was killed by police fire after security forces noticed the knife in his hand.
The victim of the attack was taken to the trauma center of Shaare Zedek Medical Center. He was in stable condition with wounds to the chest and back.
The final moments of the incident
The attacker was identified as Fadi Alloun, a resident of East Jerusalem's Issawiya neighborhood.
He had written on his Facebook page: "Either martyrdom or victory."
A video emerged overnight apparently showing the final moments of the incident, as police fired at the terrorist.
Given the security situation in Jerusalem – on Saturday, a stabbing attack killed two and wounded two others, including a baby – police have decided that for two days, entry to the Old City will be restricted to Israeli citizens, residents of the Old City, tourists, owners of businesses in the city and students who go to school there.
Entry of Muslims for prayer at the Temple Mount compound is to be limited to men aged 50 and over and all women, and only through the Lion's Gate.
Early Sunday morning, IDF troops surrounded a house in Jenin. According to Palestinian reports, the house is the residence of Qais Saadi, a Hamas military operative who is well-known in Jenin. Troops used the IDF's "pressure cooker procedure", including firing a missile at the house and demanding that he give himself up.
Two people were arrested on suspicion of involvement in terrorist activities during the incident. Riots broke out as troops surrounded the home, with some throwing explosive devices at soldiers.
Associated Press contributed to this report.