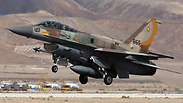 IAF F-16 (Photo:EPA)
Photo: EPA
The Israel Defense Forces struck several Hamas terror infrastructure targets in Gaza early Monday morning in response to rocket fire emanating from the coastal territory on Sunday night.
One of the rockets fired from the Gaza Strip struck an open area in the Eshkol Regional Council Sunday night, according to an IDF spokesperson.
Authorities were deployed to the field to search for the site of the strike.
Code red sirens were not triggered during the attack as the rocket's trajectory did not put any inhabited areas in danger.
A second rocket was fired, triggering Code red sirens in Nahal Oz and Alumim in southern Israel, just near the border with Gaza.
The rocket fell short of the border fence and landed inside the Gaza Strip.
The attacks come amid escalating acts of violence in East Jerusalem and the West Bank this week, including the Thursday night murder of an Israeli couple in the West Bank, and an attack in Jerusalem on Saturday night during which a Palestinian killed two Israelis and injured several others, leading many to speculate regarding a Third Intifada, or Palestinian uprising.
The
last rocket
to be fired at Israel from the Gaza Strip was shot down by the Iron Dome missile-defense system over Ashdod just five days ago, prompting the IDF to respond with airstrikes in the Palestinian enclave.