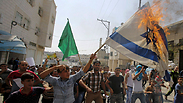 Amid escalating acts of violence in East Jerusalem and the West Bank, Prime Minister Benjamin Netanyahu announced Sunday night that he had ordered new steps meant to prevent terrorism after a meeting with officials from the Ministry of Defense.

"We are waging a war to the death against Palestinian terrorism," said Netanyahu. "I've ordered a series of additional steps in order to prevent terror and to deter and punish the attackers."

The prime minister said that the new steps include the expedited destruction of perpetrators' homes, the extension of administrative detention for offenders, additional security forces in Jerusalem and the West bank and limiting Palestinian access to the Old City and Temple Mount in Jerusalem.

Netanyahu's comments came after several particularly severe security incidents including an attack in Jerusalem Saturday night during which a Palestinian killed two Israelis, leading many to speculate regarding a Third Intifada, or Palestinian uprising.

UN Secretary General Ban Ki-moon also threw his hat in the right Sunday, with a call to Palestinian President Mahmoud Abbas to discuss the recent spike in tensions.

Abbas told the UN leader that Jewish settlers were provoking the Palestinians with the IDF's protection by blocking roads in the West Bank as well as the entrance the al-Aqsa Mosque on Jerusalem's Temple Mount. He asked for some form of international protection for the Palestinians.

Ban told Abbas that he would call Netanyahu and relay Abbas' warning that the situation could get "out of control."

Meanwhile, violence continued throughout the day Sunday, leading to the death of an 18-year-old Palestinian, Hazifa Saliman, after clashes with police in Tulkarm, just inside the West Bank opposite the city of Netanya.

According to the Red Crescent, at least 77 other Palestinians were wounded throughout the day in various incidents and clashes in the West Bank and Jerusalem.

An Israeli border police soldier was lightly wounded by an explosive device at Rachel's tomb earlier in the day, and was taken to the hospital for treatment before being released.

Some 250 Palestinians also threw rocks and firebombs at security forces as they burned tires in Abu Dis, just East of Jerusalem.

IDF troops also clashed with stone throwers near Ramallah and in both cases, security forces responded with crowd-control measures.

Palestinians also claimed Saturday that Jewish settlers attacked Palestinian vehicles with stones along route 60. A 15-year-old Jewish resident of the settlement of Psagot, just East of Ramallah, was arrested Saturday when police caught him throwing stones at a Palestinian vehicle.

His detention was extended and an appeal was rejected, leaving him in jail for the remainder of the holiday.

Another 40 settlers blocked Shiloh Junction on Sunday, throwing rocks at passing Palestinian vehicles. No injuries were reported from the scene.

Yoav Zitun, Elisha Ben Kimon, Noam 'Dabul' Dvir, Omri Ephraim and Yael Freidson contributed to this report.