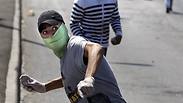 Rioters in East Jerusalem. (Photo: AFP)
Photo: AFP
A 13-year-old Palestinian was killed in clashes with security forces Monday at the Aida refugee camp near Bethlehem, marking the second Palestinian death in 24 hours of intense clashes.
According to Palestinian sources Abdel Rahman Abdullah suffered a gunshot wound to the chest, and died soon thereafter at the nearby Beit Jala hospital.
The IDF said in response that it was looking into reports that a Palestinian was killed by IDF gunfire, but mentioned that troops were actively attempting to suppress a violent and illegal protest in the area, during which rocks were thrown at security forces.
The IDF was able to confirm that ruger rifle rounds had been used against a primary agitator, in addition to other non-lethal means.
Military officials added that violent incidents have become a daily occurence in the area, including attacks perpetrated by Palestinians near Rachel's Tomb and the Aida refugee camp, which included the throwing of an improvised explosive device at border patrol troops on Sunday night.
Clashes in general have intensified in the past 24 hours, with security forces responding to several incidents across the West Bank.
The deaths follow several particularly severe security incidents including a Thursday night attack during which a Palestinian assailant murdered Na'ama and Eitam Henkin in their car, in front of their children. Another attack took place in Jerusalem on Saturday night, when a Palestinian killed two Israelis and wounded two others, including an infant.
Later that night, a Palestinian man stabbed a 15-year-old Israeli in Jerusalem's Old City. Both assailants in the respective attacks were neutralized by security forces. The drastic decline in the security situation and increasing tensions over the temple mount during the Jewish holidays has lead many to speculate regarding a third Intifada, or Palestinian uprising.
Prime Minister Benjamin Netanyahu announced Sunday night that he had ordered new steps meant to prevent terrorism after a meeting with officials from the Ministry of Defense.
The prime minister stated that, "We are waging a war to the death against Palestinian terrorism. I've ordered a series of additional steps in order to prevent terror and to deter and punish the attackers."