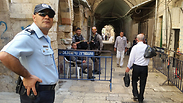 Jerusalem's Old City during Sukkot
Tourism industry leaders are predicting a wave of cancellations of groups from abroad, especially pilgrims – who normally come to Jerusalem in big numbers from October to December – due to mounting violence, including riots and deadly attacks.

Recently, Israel Incoming Tour Operators Association's office, and the offices of travel agencies dealing with tourism to Israel, have been flooded with inquiries from suppliers and agents abroad asking for clear answers on what they see in the media.

Improved Relations?

Twice as many Israelis visit Turkey in August 2015 as in August 2014, and 30 percent more than in August 2013, following years of extremely cool relations.

Shmuel Merom, chairman of Israel Incoming Tour Operators Association, said Monday that tourism to Israel has not yet recovered from a slump during Operation Protective Edge last summer, and has now received a new blow.

"We are in a continuous war," said Merom. "There were incidents in Jerusalem after Protective Edge and now, these recent events simply do harm to tourism. We have received many inquiries in last three days, as well as requests for information from abroad, and I suppose that on Tuesday, after the holiday, we will get a lot more inquiries and also cancellations."

He said uneasiness sometimes comes over tourists. "We convince some of the tourists to come to Israel and to others we suggest they change their destination," he said.

"But it's not easy. There are even groups of Israelis who canceled events in Jerusalem. Unfortunately, I do not see any response or solution on the horizon and the feeling is that there is not even the will to reach a solution."

Marom added that the Jews who came to Israel from abroad for the holidays are leaving now as their vacation is over. "Nevertheless, the fourth quarter is the strongest quarter regarding pilgrims.

"October is supposed to be an excellent month for tourism, relatively speaking, with many groups of pilgrims, which should continue into November and December," he added. "As it looks now. we are now entering a period of uncertainty and expect a wave of cancellations in the coming days. It's very frustrating and it will cause the industry severe economic problems."