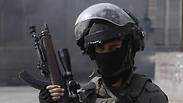 Tensions remained on a knife's edge Tuesday as violent clashes wounded at least 50 Palestinians, 3 IDF soldiers, 3 police officers, and a baby girl.

Three police officers were lightly wounded by rocks thrown Tuesday night by masked Palestinians during clashes that erupted in Israel's centrally-located city of Jaffa, just kilometers south of Tel Aviv.

The violence came as an Arab protest against Israeli policy on the Temple Mount in Jerusalem got out of control and two of the rioters were arrested. Police said the protest was held without the proper licenses.

A bus and vehicle were also damaged by the rock throwers. It is the first time clashes have reached central Israel since a wave of violence began recently in the West Bank and East Jerusalem.

The latter's Shuafat neighborhood was the scene of particularly dramatic violence, near the mourning tent put up by the family of Fadi Aloun, who stabbed 15-year-old Moshe Malka overnight between Saturday and Sunday.

Jerusalem police detectives came to the area in order to arrest a stone-thrower, and were immediately surrounded by locals, who tried to prevent them from executing the arrest. A border police force that was close by was called in, and assisted the officers with the arrest.

Aloun, a 19-year-old from Issawiya, stabbed the teenager Malka at the juncture of Hanevi'im and Kheil ha-Handasa streets in Jerusalem. He then fled toward Bar Lev Road, where he was shot and killed by police officers who noticed the knife in his hand.

Violence also erupted Tuesday at the Qalandiya checkpoint north of Jerusalem, when Palestinians threw stones at police and border police forces. One border police soldier was lightly wounded by a stone thrown by Palestinians.

Incidents of stone-throwing at police also occurred Tuesday afternoon at the Beit Hanina neighborhood in northern East Jerusalem. They were dispersed after a short time and no one was hurt.

In a seperate incident, dozens of Palestinian teenagers and children threw stones and Molotov cocktails from the Jilazoun area in the West Bank towards the settlement of Beit El, and at nearby vehicles. An IDF soldier arrested one of them.

A baby girl was lightly wounded when the vehicle she was in was hit by a stone near the settlement Eli in the West Bank. She was treated at the scene.

Severe violence erupted near the Israeli Civil Administration building in the Mateh Binyamin regional Council and near Ma'ale Labone.

Coordination with Palestinian security forces is still in effect, but the situation is making work difficult. The IDF, meanwhile, also has to contend with Jewish rioters, whom security forces have dubbed as showing similar behavioral patterns to Palestinian rioters, such as stone-throwing and forcing drivers out of their cars.

Twelve Jewish Israelis were arrested due to these activities.

The Jerusalem Police Department also summoned several merchants and passers by who were in the area during the stabbing attack in which Aharon Bennett and Rabbi Nahmia Lavi were murdered, and Bennett's wife, Adele, and their son were wounded.

Adele said that not only did those present not help her, they cursed her and spat at her while the murderer's knife was still in her body. These individuals were identified via security camera footage and police said they would be investigated for failing to prevent a crime. The possibility of ordering the closing of the businesses belonging to the merchants among the suspects is also being examined.