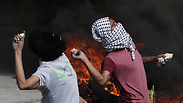 A Palestinian man was mortally wounded on Wednesday during a violent protest of about 350 people by a checkpoint near Ramallah.

The IDF has opened an investigation into whether the wounds the man suffered were caused by gunfire or a stone thrown by protestors. The man, identified as Ahmad Ahmad, a student at Birzeit University, was evacuated to the Hadasa Hospital at Ein Kerem and is being treated there.

The protesters threw Molotov cocktails and lit tire fires. In response, IDF soldiers fired live ammunition and rubber bullets towards the main inciters, and used riot dispersal means. One of the protestors was arrested.

Also Wednesday, Israel, for the first time during this period of tension, issued a message to the Palestinian population in the West Bank, in an attempt to calm the atmosphere. The Coordinator of Government Activities in the Territories, Major-General Yoav Mordechai, gave an interview to the Palestinian media, saying Israel does not want the situation in the West Bank to escalate.

Maj.-Gen. Mordechai mentioned that Israel is preserving the status quo in the Temple Mount area, and is not interested in changing it. He emphasized that police have restored the situation to its previous state now that the High Holy Days period is over, and that there are currently no restrictions on Palestinians entering the area.

Mordechai also addressed the attacks by Israeli settlers against Palestinians in the past few days, making it clear that security forces are monitoring the situation, and that Israel's government will not allow any type of harassment against the Palestinian populace.

Earlier on Wednesday, Palestinians threw stones at an Israeli vehicle traveling near the town of Carmel in Har Hebron, damaging it. Stones were also thrown at cars near Beit Ummar in the Gush Etzion area, but no one was hurt and no damage was done to the vehicles.

On Wednesday morning, Palestinian terrorists ambushed an Israeli driver on the road between Tekoa and Jerusalem, near Beit Sahour, threw stones at her vehicle and attempted to forcefully remove her from it. The driver, Rivi Lev Ohayon, managed to escape, but was lightly wounded by stones and kicks. She was taken to Shaare Zedek Medical Center by ambulance and was in stable condition. Stones were thrown at six other cars as well.

A police officer was lightly wounded Wednesday afternoon when Palestinians threw stones at him in Hagai St. in Jerusalem's Old City. He was treated locally by Magen David Adom paramedics.