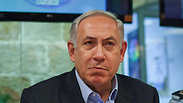 גלעד ארדן בנימין נתניהו הערכת מצב טרור מפקדת משטרת ירושלים
Photo: Noam Moskowitz
Prime Minister Benjamin Netanyahu said on Thursday that a prohibition ordered earlier on Temple Mount visits would not apply to Jewish ministers and MKs only.
"Let us be clear: the directive to prevent MKs and ministers from entering Temple Mount applies to Jews and Arabs alike," a spokesperson said.
Late Wednesday night, Netanyahu issued a ban on Jewish politicians from visiting the volatile Jerusalem compound in an attempt to calm the restive atmosphere emanating from there over the past few weeks.
The decision to apply the regulation only to Jewish MKs and not Arab MKs drew criticism from within the government. Jerusalem and Diaspora Affairs Minister Ze'ev Elkin told Army Radio Thursday: "I believe this is a mistake - why does this not include MKs on the Joint (Arab) List"? No one incites more than Joint List MKs."
According to Elkin, Joint List MKs "propagate lies saying Israel is changing the status quo (on Temple Mount), they are the ones who are stirring up the people, they are the ones who are clashing with police on Temple Mount. We have all seen the pictures of (MK Jamal) Zahalka, we have all heard Haneen Zoabi, so I think If Israel wants to have quiet here, the first that should be banned from visiting the Temple Mount are the Joint List's MKs."
A spokesperson for Agriculture Minister Uri Ariel said in a statement that "the announcement of the prohibition of ministers and MKs from visiting the Temple Mount did not reach the minister directly, but rather through the media. The minister intends to discuss the issue with the Prime Minister to receive clarifications, and in any case, the subject of the discrepancy between Jewish and Arab MKs is something that is unacceptable and clearly incomprehensible and the issue will be expressed to the Prime Minister firmly ".
The ban on Jewish MKs came following a recommendation from the National Security Council, saying that it would reduce provocations. They argued that the MKs and ministers fanned the flames, saying that the compound was "a powder keg" and that visits were "a dangerous provocation."
Over the past weeks, there were clashes on Temple Mount involving visiting MKs.
In one case MK Jamal Zahalka (Joint List) was detained for questioning after confronting police and a group of Jews from the "Returning to the Mount" movement near Al Aqsa Mosque.
Zahalka protested the entry of Jews to the complex. "Crazed criminals, you are all fascists, racists, get out of here, you are offensive to Muslims," he shouted.
He said to a policeman: "Why do you let them in? What a disgrace. Just to hurt Muslim's feelings? It is not yours, get out, go home. You're not welcome."